If you're looking to buy the best microSD cards on sale in 2020, then you've come to the right place. We've carefully picked the very best microSD flash memory cards that can be used for cameras, smartphones, drones and even games consoles like the Nintendo Switch.
The best microSD cards, then, allow you to easily expand the capacity of your device. However, it's not as simple as just about packing a load of gigabytes into a small memory card.
MicroSD cards also need to offer high speeds that are essential when moving large files to and from the card. This is especially the case when recording video in Ultra HD (4K) resolutions, as your device will be writing a lot of data.
These days, there are so many devices that use these little memory cards, from smartphones and cameras, to laptops – so our list of the best microSD cards money can buy can help make sure you're getting the most out of all of your tech.
It's also worth noting that many of the best microSD cards we feature on this page include an adapter that allows them to be used in devices that support standard SD memory cards as well.
Best memory cards for cameras – at a glance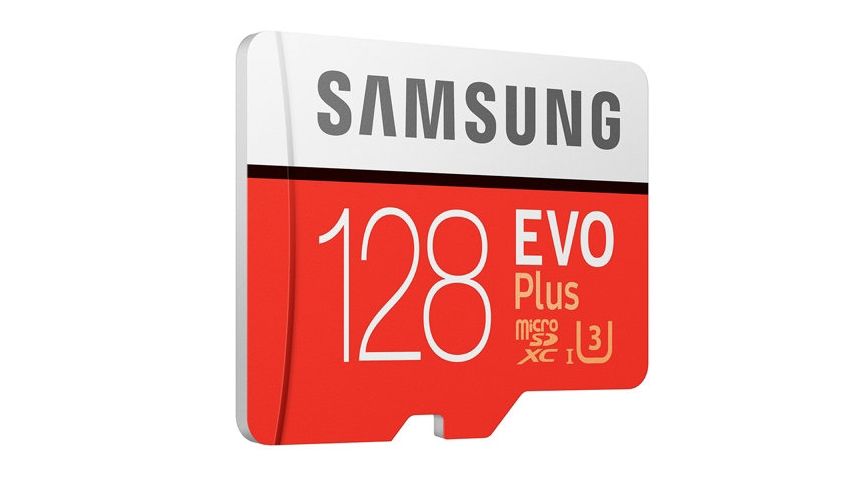 1. Samsung Evo Plus microSD card
The best all-round microSD card
Capacity: 32GB, 64GB, 128GB, 256GB | Interface: microSD
Fast
Reliable
Pricey
Not the fastest
The best SD card you can buy is technically a microSD card, albeit one that can be used full-size when married to the proper hardware. Despite not being the most resilient SD card on the market, the Samsung Evo Plus' 100 megabyte per second (MB/s) read and 90MB/s write speeds are impressive nonetheless. Not only that, but there is a wide variety of sizes to choose from too, so whether you need 32GB of storage or 128GB, rest assured you're in good hands.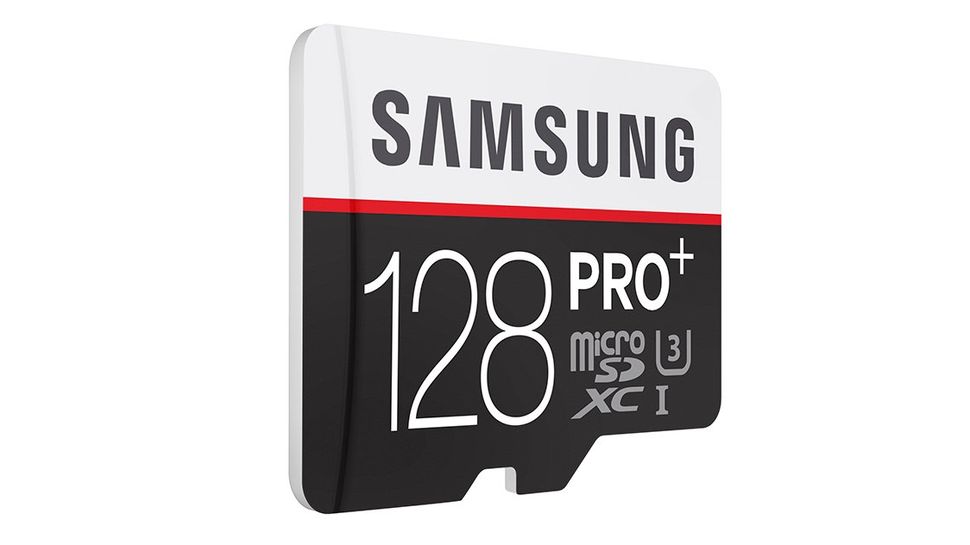 2. Samsung Pro+ microSD card
The best microSD card for video
Capacity: 32GB, 64GB, 128GB | Interface: microSD
Robust
Great speeds
Pricey
If you do a lot of filming, especially in 4K, then you're going to want a reliable microSD card that can write large amounts of data fast, which is exactly what the Samsung Pro+ can do. It features a U3 rating and read/write speeds of 95MB/sec and 90MB/sec. The kind of speeds the Samsung Pro+ microSD card can handle will be largely wasted for day-to-day tasks, such as being installed in a smartphone, but for 4K video, this is a fantastic buy.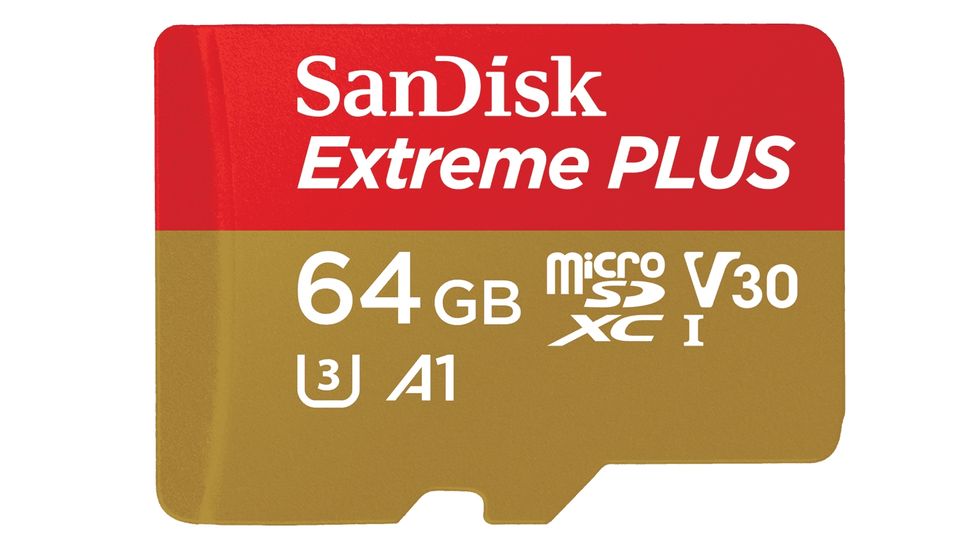 3. SanDisk Extreme Plus microSD card
Capacity: 32GB, 64GB, 128GB | Interface: microSD
Very fast speeds
Good at writing small files
Pricey
SanDisk claims this microSD card can read up to 95MB/s and write 90MB/s, and in tests it came pretty close to those speeds. This makes it a very fast card, and with smaller files it's even faster, which means this is a great card for action cams, drones or burst photography. Again, it's a bit on the pricey side, but if you don't mind spending a bit above the odds, you'll get a great microSD card for your needs.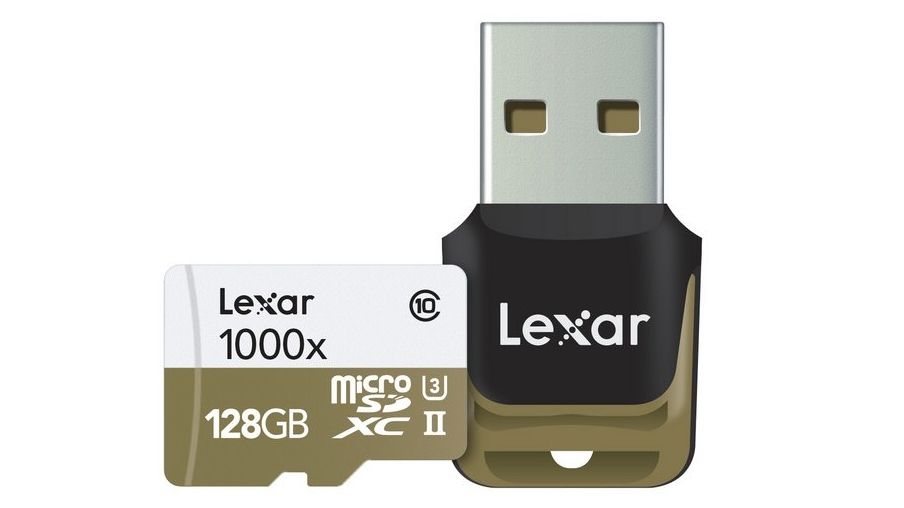 4. Lexar 1000x microSD card
Capacity: 32GB, 64GB, 128GB | Interface: microSD
Good price
Included USB 3.0 adaptor
Not the fastest
Inconsistent performance
The Lexar 1000x isn't the fastest microSD card here, but it has a lot going for it. For example, its read speeds are still some of the fastest around, and it's priced cheaper than many of its competitors. While it falls short with its write speeds, the difference won't be too noticeable for many people. It also comes with a microSD to USB 3.0 adapter, which makes it easy to transfer your files to a PC.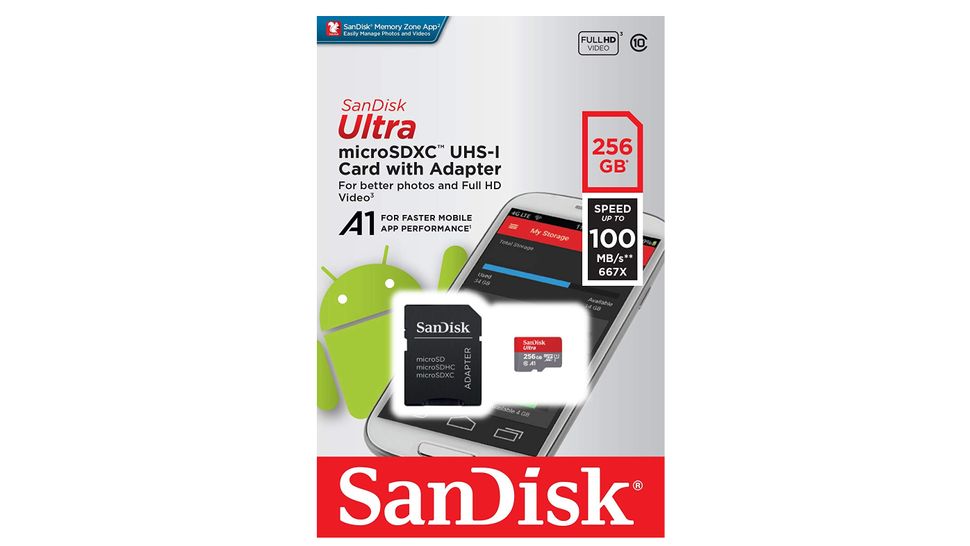 5. SanDisk Ultra microSD
A large capacity microSD card
Capacity: 16GB, 32GB, 64GB, 128GB, 200GB, 256GB, 400GB | Interface: microSD
Decent speeds
Large capacitiy
Not brilliant for 4K recording
The SanDisk Ultra microSD is a brilliant microSD card for people who are looking for large capacities, with the latest version offering up to 400GB of storage space. That should give you plenty of room for storing high resolution images and video files. Write speeds are good, but they are not the fastest we've seen. If you shoot in 4K, that might be an issue, but for many people the slightly slower speeds are worth it for the amount of storage space you get.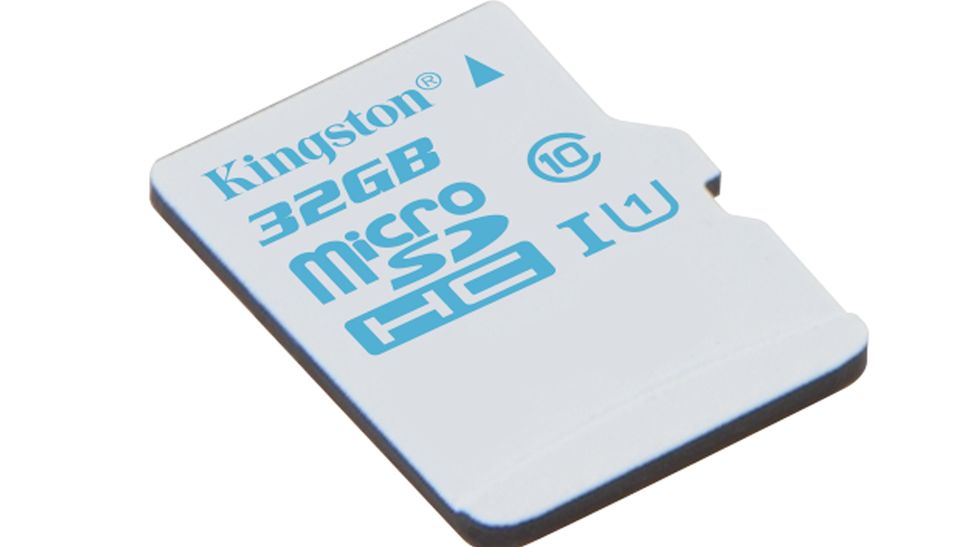 6. Kingston microSD Action Camera
Capacity: 16GB, 32GB, 64GB | Interface: microSD
Very robust
Good speeds
Not amazing if you're not using it in an action camera
If you're looking for a microSD card to put inside an action camera, like the Go Pro, then you want something that can record data quickly, while also being able to withstand drops, shocks and splashes. This is where the Kingston microSD Action Camera comes in – it's designed especially for action cameras. This means it has an incredibly robust design, as well as good read and write speeds. It's a bit overkill if you're just going to use it in a smartphone, so one of the other microSD cards in this list could be better suited to your needs.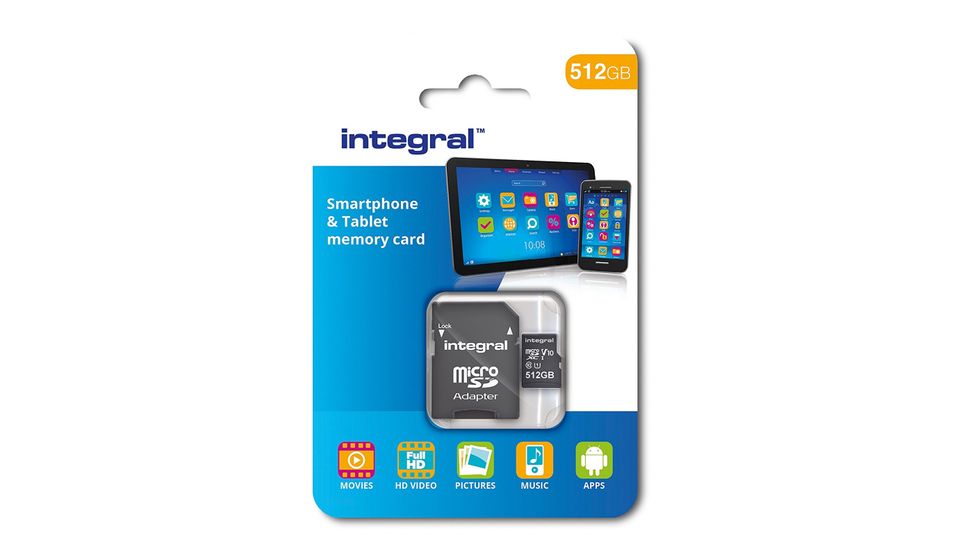 7. Integral 512GB microSDXC Class 10 Memory Card
Another great large capacity microSD card
Capacity: 32GB, 64GB, 128GB, 256GB, 512GB | Interface: microSD
Large capacity
Good speeds
Slow speeds for video
Many microSD cards are low capacity, which is fine if you just need an extra bit of space in your smartphone or tablet, but if you're taking lots of high resolution images, or you want to take advantage of modern smartphone's support for microSD cards up to 2TB in size, then the Integral 512GB microSDXC Class 10 Memory Card is definitely worth considering, offering a huge 512GB of storage space. Of course, you can also get versions with less space if you don't need as much, but for those of you who need to store large files, this is the microSD card for you.
How to choose your microSD memory card
1. It's not worth looking for memory cards with capacities smaller than 4GB simply because the price premium you pay for twice or four times the storage is tiny.
2. Make sure you include the delivery price when doing the numbers as quite often you end up paying more for the postage than the drive itself, particularly for low-cost models.
3. If you plan to opt for large capacity cards (32GB or more), make sure that your device is SDXC compatible.
4. If you plan to move files to and from portable devices (tablets or smartphones), consider a microUSB card reader such as the Leef Access.
5. Avoid buying your memory cards from vendors with few feedbacks on auction websites as these drives might turn out to be fake. All the vendors listed below are tried and trusted ones.
6. For 128GB and above, SD cards are generally cheaper as users usually settle for 64GB as this matches the maximum supported capacity of most portable devices. In general, microSD cards with an adaptor cost less than the equivalent SD card.
7. Note that all the capacities are likely to be much less than stated when they are formatted.
8. SD cards are usually divided into classes which gives a rough idea of the minimum performance to be expected. A Class 4 card is guaranteed to deliver at least 4MBps while a Class 10 should surpass 10MBps.
9. Similarly, many vendors report their speeds in terms of "x" rating which is a multiple of 150KBps (the read speed of a standard CDROM drive). A 100x card can be expected to deliver more than 14MBps.
10. If you plan to buy microSD cards simply to store data, don't. Memory sticks, being cheaper and more robust, are a better choice.