Best Deals of the Day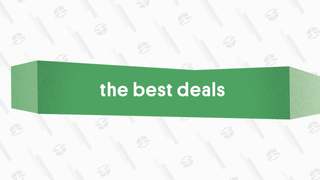 Best Deals of the Day
The best deals from around the web, updated daily.
A Cyberpunk 2077 pre-order discount, a Tacklife 800A jump starter, an exclusive markdown on Putterball's backyard golf game, a Street Fighter II-themed mini fight stick for Nintendo Switch, a Sun Joe pressure washer, and the last day of Amazon's Big Style Sale lead Friday's best deals.
Bookmark Kinja Deals and follow us on Twitter to never miss a deal!
G/O Media may get a commission
Adding bias lights to your TV? Giving your gaming cave the finishing touches? Do you just like colorful lights? Try out Minger's RGB LED strip, which offers 16.4 feet of colorful bulbs that can switch between 16 different colors for just $10 with promo code R2OJ5ZOQ. Govee is the budget brand many have flocked to lately, but at just $10, you might as well see if these can fill your needs all the same.
---
With 4th of July quickly approaching, HP wants to hook you up with big savings to celebrate. You can save up to 60% off in its biggest sale of the summer. Everything from laptops to printers are up for grabs, some with steep savings.
One of the best deals you'll find is on this HP 340S G7 notebook that starts with a 14-inch 720p+ display, 10th-gen Intel Core i3 chipset, 4GB of RAM, and a 128GB SSD for $458, down from $1,146. You can customize it to add 1080p and beefier internals, up to a Core i7 chipset, 16GB of RAM, 512GB of SSD storage, WiFi 6, keyboard backlighting, and a fingerprint sensor.
---
ChronoWatch Round Smartwatch | $39 | MorningSave
Today at MorningSave, grab a round ChronoWatch smartwatch for $39 that works with both iOS and Android, lasts seven days with full usage (20 on standby), and has all the following functions:
Activity Tracking: Steps, Distance, Calories
Water resistance
Multi-Sport Activities mode & Data
Stopwatch
Dynamic Heart Rate Monitor
Sleep Monitor
Blood Pressure
Blood Oxygen
Activities Reminders
Messages & Calls Notifications
Alarm
Weather
Shutter
Control Music
Find Watch
Control Screen Brightness
Multi-displays
Oh, it also tells time. I always forget that part.
This deal was originally published by Quentyn Kennemer on 5/12/2020 and updated by Quentyn Kennemer with new information on 6/25/2020.
---
The Samsung Galaxy S20 lineup offers some of the most advanced smartphones ever, and they're priced accordingly. It's tough for anyone to justify spending Samsung's asking price, but Amazon is issuing a $200 discount on pretty much all available unlocked models, including the Galaxy S20 5G ($800), Galaxy S20+ ($1,000), and Galaxy S20 Ultra ($1,200), all with 128GB of storage.
Here are some of the specs and features they all share:
Dynamic AMOLED HDR+ 120Hz display (3200 x 1400)
Snapdragon 865, 12GB of RAM, 128GB Storage + microSD
Five total cameras
USB-C Power Delivery, 15W Wireless Charging, Reverse Wireless Charging
Samsung Pay, Ultrasonic Fingerprint Sensor
IP68 water and dust resistance
Android 10 w/ One UI 2
5G Capabilities
Exact battery capacity, display size, camera capabilities, and charging speeds change with each device, however, so get a good look at all of them with the links ahead before making your purchase.
This deal was originally posted by Quentyn Kennemer on 6/11/2020 and updated by Quentyn Kennemer with new information on 6/25/2020.
---
Between cramped nightstands and scarce electrical outlets, it can be hard to make sure all your gadgets get their daily boost. Wireless charging alone won't solve that problem, but a wireless charging pad that supports two devices can help you get things a little more in order. Right now, you can get Anker's Powerwave 10 wireless charging pad for just $36 on Amazon using the promo code AKRB2571.
The Powerwave 10 supports charging up to two devices simultaneously, and also supports fast charging. It also comes with a 5 ft charging cable, giving you everything you need to plop your phones down and forget about it til' it's topped off.
This deal was originally published by Jordan McMahon on 5/6/2020 and updated by Quentyn Kennemer with new information on 6/25/2020.
---
As a proud new owner of the base model 16″ MacBook Pro—which normally runs about $2,400—I've gotta say, I feel duped by this rare discount on Amazon that brings the price down 10% to $2,149. If I'd saved $250 on my MacBook Pro just a few short weeks ago, I could have bought 250 cheeseburgers from the dollar menu at McDonald's. Or, if I was feeling responsible, I could have put it toward my car payment.
Ah, but alas I did not and so I'm sitting here advising you not to make the same mistake I did. If ever you were thinking of buying the 16″ MacBook Pro, now is the time to grab one. It's got a six-core i7-9750H processor, 16GB of fast 2,666MHz DDR4 RAM, 512GB of flash storage, and a 4GB AMD Radeon Pro graphics processor built-in. Call it mitochondria because it's a real powerhouse … for a Mac that is! Graced with force-canceling woofers, the six-speaker sound system is impressive as well.
Although I've personally run into constant pinwheeling in Chrome ever since I got the thing, that issue isn't unique to me or this MacBook specifically. My partner has the same problem on her brand-new 13″ MacBook Pro and I had it on my 2017 version of that laptop before it. Otherwise, it's been smooth sailing. Test it out for yourself, and remember Amazon has a 30-day return policy if it's not up to snuff. I, for one, blame Chrome.
This deal was originally published by Gabe Carey on 6/11/2020 and updated by Gabe Carey with new information on 6/24/2020.
---
Whether you've grown addicted to apps or you're looking to store more games on your Nintendo Switch, everyone could find a reason to jump on this deal for Samsung's 256GB EVO Select microSD card. It's down to $34 today. This is a U3 card that has read/write speeds of 100/90 megabytes per second, and should work in almost any modern device that supports microSD. You'll also get an adapter to use it with even more devices like digital cameras.
---
Photography buffs in need of a tripod may want to check out AUKEY's travel unit. It has a 360-degree ball head stands on three legs by default, but you can pare it down to monopod status for those landscape shots you want to take during your nature hikes. It's usually $80, but you'll save 38% when you clip the coupon at Amazon and apply promo code 7LP7PQQ2.
Here are some of the other niceties you can expect for your money:
Quick release plate
Standard 1/4″ Screw Plate
Inverted mode
Weight hook
Foam grips
Customizable leg angle w/ lock
Lots more
---
Kinja Deals is the only place you'll find Anker's 45W slim fast charger going for $26. Normally $38, this is the lowest price we've ever seen for this item, and the only catch is that you use promo code KINJAONE45 at checkout.
With a 45W USB-C Power Delivery port, you can charge anything from smartphones to laptops at the highest available speeds. Plus, the charger is only 0.8 inches thin, so it won't have to fight hard for space in your travel bag.
---
Today, you can score a massive discount on a pair of LucidSound's LS31 wireless gaming headphones at Back Market, where a refurbished pair in mint condition is going for $75. These normally retail for $150 and hover around $100 on a good day, so you're getting a good deal here. Here's what the refurbishing company says about their condition:
100% Functionality. Mint or like-new condition. Little to no signs of use or wear.
The headphones feature lag-free connectivity with PC, PS4, and Xbox One, and can be used with almost anything else via 3.5mm. You'll get big sound with dual 50mm drivers, and it supports full surround sound on Xbox One. The aluminum frame makes it a light fit and some added sex appeal, and with a detachable noise-cancelling detachable boom microphone, you shouldn't get any crazy echo complaints when you're laughing it up in party chart.
Don't forget that Back Market products come with a 12-month warranty, and you'll have 30 days to get a complete refund if anything goes wrong.
---
TaoTronics is making it super cheap to get an entry-level pair of ANC headphones. The SoundSurge 60 are just $35 when you clip the coupon at Amazon.
These feature dual 40mm drivers, Bluetooth 5.0 connectivity, improved voice calls with CVC 6.0 microphones, and TaoTronics is advertising 30-hour battery life with quick charging, where just five minutes on the juice gets you a two-hour session.
This deal was originally published by Quentyn Kennemer on 5/9/2020 and updated by Quentyn Kennemer with new information on 6/23/2020.
---
Need a new charger? Whether you're juicing up an iPhone, an Android phone, or even a Nintendo Switch, this RAVPower 30W wall charger can handle the job at the fastest speeds possible thanks to its USB-C Power Delivery port. You can grab one for just $14 at Amazon when you clip the coupon and apply promo code 52ZZVRNQ.
This deal was originally published by Quentyn Kennemer on 4/22/2020 and updated by Quentyn Kennemer with new information on 6/23/2020.
---
If you are familiar with Masterclass you know it's digital learning at its finest. For $15 a month, choose from over eighty courses taught by the literal best in their respective industries. If I want to learn screenwriting I'd want Aaron Sorkin to teach me, well he can, in Masterclass.
The legend himself Tony Hawk has joined the online teaching ranks and is launching his own course with sixteen classes. If you have an adventurous kid who wants to shred with the best of them let the guy who built the sport teach them everything he knows. What's cool is they can learn at their own pace and revisit if they need refreshers. You can also just buy them Pro Skater 2, it's how I learned and I'm mediocre at best.
This sounds like a great deal, what's the catch? You do pay for the entire class upfront. So if your child gets bored or moves from hobby to hobby quick this might not be for you. This is a great gift to give anyone who is interested in a topic and wants to be taught by actual masters of the subject. I mean, Serena tell me about that backhand.
New classes are added periodically but given the expertise and insight you receive this is still a great deal against other online courses.
---
Nobody likes feeling your headphone cables flail around as you're on your morning jog or just out and about. True Wireless headphones help alleviate that and give you a sleek way to blast your favorite playlist or catch up on a couple podcasts, but they get expensive pretty quickly. Jabra's Elite Active 65t True Wireless earbuds can run up to 15 hours on a single charge, with the use of its charging case, and can connect to Siri, Alexa, or Google Now for quick voice controls. Typically, they run about $170, but for today and tomorrow, you can get a refurbished pair for $50 on Newegg. There's a newer model, the 75t, which does offer some nice upgrades, but for the discount, you're still getting some seriously good earbuds, so don't fret too much.
This deal was originally published by Jordan McMahon on 6/2/2020 and updated by Quentyn Kennemer with new information on 6/23/2020.
---
Looking for a new smartphone? TCL may not be a name you're familiar with in this realm, but much like their rise to fame in the TV world, their value-packed smartphones have been turning heads these past few years. The TCL 10 series phones pack mid-range Snapdragon octa-core chipsets, 6GB of RAM, quad cameras, and big beautiful 6-inch-plus displays, and they're 15% off today. The TCL 10 Pro, which has a slightly beefier processor, an AMOLED display, and more base storage (128GB) is $382 following a $68 price cut. If you don't have as much to spend, the TCL 10L tops out at 64GB and dons LCD for $212, down from $250.
Both smartphones are certified for use on Verizon's LTE network, plus they have the usual GSM radios for use on T-Mobile, AT&T, and more.
If you know anything about Fortnite, congratulations, you know more than me. On sale at Amazon for half off the list price, this nightmarish Bluetooth speaker inspired by a character called—I shit you not—Beef Boss comes from Bitty Boomers, a company that ostensibly sells the home audio equivalent of Funko Pops. While I can't speak on the quality of the sound, it's small enough to fit in your hands and last four hours on a single charge. A verified Amazon reviewer called it "awesomely loud" and gave it five stars so it must be good.
---
You might think those LEGO games are just for kids, but try one and you might find yourself falling in love with your childhood all over again. Today, you can score various LEGO games on the cheap, including the LEGO Marvel Collection that bundles LEGO Marvel Super Heroes, LEGO Marvel's Avengers, and LEGO Marvel Super Heroes 2 for one low $15 on both PS4 and Xbox One. The LEGO Harry Potter Collection includes two games for $16 on PS4 and Xbox One, too. ($20 on Switch.)
Singular titles are going for that same sweet $15 price, including LEGO Incredibles (PS4, Xbox One, $20 on Switch) and LEGO DC Super-Villains (PS4, Xbox One, $20 on Switch). The LEGO Movie 2 Videogame is a nice exception at just $13 on PS4, $9 on Xbox One, and once again, $20 on Switch.
There's a lot more to discover at Amazon, with discounts available on many different LEGO games across several platforms, so get over there and start thumbing through the virtual bargain bin.
---
You don't want to be stuck on Joy-Cons when it's time to load up Street Fighter. The HORI Fighting Stick Mini gives you a much better 8-button layout for landing combos, and Amazon has it down to $53 today. This version, officially licensed by both Nintendo and Capcom, feature Chun-Li and Cammy in a special blue and gold design.
---
Whether you're new to Kingdom Hearts or you're interested in owning all the games at the best quality, the Kingdom Hearts All-In-One Package is a fantastic deal. It includes ten Kingdom Hearts experiences, including games and cinematic content, and Amazon has it for just $40 today. Here's everything you'll get in the package:
Kingdom Hearts Final Mix
Kingdom Hearths Re: Chain of Memories
Kingdom Hearts 358/2 Days (HD Remastered cinematics)
Kingdom Hearts 2 Final Mix
Kingdom Hearts Birth By Sleep Final Mix
Kingdom Hearts Re:code (HD Remastered cinematics)
Kingdom Hearts Dream Drop Distance HD
Kingdom Hearts 0.2 Birth by Sleep – a fragmentary passage
Kingdom Hearts X Back Cover (movie)
Kingdom Hearts III
I may be alone in this, but I'd buy it for Chain of Memories alone. That game was dope, and I don't care who cares.
This article was originally published by Quentyn Kennemer on 5/20/2020 and updated by Quentyn Kennemer with new information on 6/26/2020.
---
We were supposed to be playing Cyberpunk 2077 right around this time, but like the good studio it is, CD Projekt Red delayed the game until September 17 to polish up. There are far too many games to play to still be upset about that, but if you've been jonesing for Cyberpunk 2077, perhaps this pre-order deal will make you feel a bit better. Amazon is offloading PS4 pre-orders for $50 a pop. Then, if you're so inclined, The World of Cyberpunk 2077 Deluxe Edition hardcover tome is on sale for $10 off the list price.
This deal was originally published by Quentyn Kennemer on 5/7/2020 and updated by Gabe Carey with new information on 6/25/2020.
---
Hey all you Animal Crossing fans, I've got a cute little deal for you. The official Animal Crossing Sticker book is only $11. So yes, you can relive your already escapist paradise when you're out in the real world! There's a bunch of activities you or your kid can fill out and try, so if anything it'll hold both your attention for a couple of hours. Y'all know I'm not a fan of Animal Crossing, but that doesn't mean you shouldn't have fun! Grab this deal before it's gone.
---
Pokémon Sword and Pokémon Shield's latest expansion, The Isle of Armor, is out, and if you need a controller to navigate the newly-added open world areas, this PowerA wireless controller is dressed for the occasion.
It's dressed up like a Poké Ball, and if you look closely enough, you can kind of sort of maybe see Poliwag and Snorlax influence in the design. Or maybe that's just me grasping for straws! It's $38 at Amazon, but sadly doesn't support HD rumble, IR, or amiibo.
---
There's nothing worse than a dead controller when you're in the mood to game. With the Beboncool USB charging station, you'll be able to restore power to two, count them, TWO controllers at the same time. With the charging station, you'll be able to get a fully charged controller within two hours, and the LED indicator will let you know when each controller is up to full power. The best part about this though (besides the $14 price tag), is it can be plugged into a wall adapter, laptop, or other compatible USB devices. Grab this before it's gone.
This article was originally published by Ignacia Fulcher on 3/13/2020 and updated by Ignacia Fulcher with new information on 6/25/2020.
---
I've used three different versions of the Logitech G502—the original wired, the wired model with the HERO sensor, and the Lightspeed wireless version. Clearly, I'm in love. If you're wondering what all the fuss is about, the G502 HERO is down to just $47 at Amazon today.
This mouse is killer for gamers, featuring 11 completely macro-customizable buttons, on-the-fly sensitivity changes with custom increments up to 16,000 DPI, customizable RGB lighting, and, mostly for FPS games, a button that sharply lowers you DPI for however long it's pressed, perfect for lining up headshots.
It's also ergonomically sound, with a shape allowing you to cup the mouse comfortably with minimal finger gymnastics to reach your buttons. There are also customizable weights for those who like a heavier track.
As for that HERO sensor, the 16K DPI alone sells it, but you'll also get dynamic and automatic surface tuning to keep your cursors and crosshairs moving smoothly across any mousepad or desk you prefer.
---
Feed your nostalgic side with a hot deal on Super Monkey Ball: Banana Blitz, the 2006 continuation of the platformer that was recently updated with HD graphics. It's down to $21 for PlayStation 4 at Amazon, which is a meaty (banana-y?) $19 discount. The Xbox One version is also discounted to $26—not as sweet, but still worth letting out a quick monkey screech in excitement.
---
Team Ninja seems to have released yet another banger in Nioh 2, the souls-like action RPG that only knows PS4 as its home. If you've exhausted your backlog and looking for something new to play, you can pick the special edition up at Amazon right now for $21 off, or a final total of $59.
The special edition comes with a few extra niceties for the few extra dollars they're requiring, including a steelbook case, an art book, and the season pass that'll presumably put you in line for all the DLC that release down the road.
Here's how Heather Alexandra at Kotaku starts off in her long evaluative look at Nioh 2:
The Dark Souls formula is tried and true. It's been adapted into science fiction settings, placed into 2D, and refined time and time again. 2017's Nioh is arguably the most successful spin on the genre, adding flashy combat and the turbulent politics of medieval Japan. Nioh 2 is an improvement on every front. There's no other way of saying it: I've never played a game where fighting feels as good as this.
Sold? Buy.
This deal was originally published by Quentyn Kennemer on 4/23/2020 and updated by Quentyn Kennemer with new information on 6/22/2020.
---
If you're an Animal Crossing fan, you've probably been looking forward to the Animal Crossing: New Horizons Official Companion Guide. This book from Future Press is practically an encyclopedia for the game, but it was delayed for a while (no doubt because of COVID), and then eventually sold out. However, the guide has been back in stock for at least a month, and it's already discounted to $20!
Unfortunately, it's not expected to ship until late July-early August at the earliest, but if you're patient, order now and use that extra $10 in your pocket to stock up on fresh turnips.
This deal was originally published by Elizabeth Henges on 5/17/2020 and updated by Quentyn Kennemer and Gabe Carey with new information on 6/22/2020.
---
Star Wars Jedi: Fallen Order is a fantastic Star Wars game, and if you haven't already played it, please take care of that. It's an order of self-care. But if you have played it and you're looking for other ways to appreciate the experience, try picking up the official limited edition art book. This hardcover copy is down to $46 at Amazon.
With detailed concept art of all-new characters, exciting weapons and equipment, and locales both familiar and new, this tome offers a behind-the-scenes look at the production of a hit game—all accompanied by intimate artists' commentary that reveals how this incredible universe is brought together. This limited edition also features a cover and slipcase inspired by ancient Jedi tomes, as well as an exclusive gallery-quality lithograph!
---
If you're looking for more modernized retro consoles to add to your collection, this deal on a Neogeo Arcade Stick Pro is right on time. It's only $99 right now, down from $130.
Unlike most classic consoles, The Neogeo Arcade Stick Pro actually houses all it needs in the controller itself. You have two USB-C ports for connecting controllers from your Neogeo Mini (also discounted to $55 right now), an HDMI out port, and 3.5mm audio to keep the noise down. If that's not enough, you can use it as a USB controller on both Android and PC.
---
Enjoying The Last of Us Part II? Consider buying the art book! Released today, Dark Horse's tome offers all sorts of art and insight into the long-awaited sequel. Right now, the regular version of The Art of the Last of Us Part II is 33% off, for $27. Given the average price of an art book, this is a good deal.
If you're more interested in the deluxe version of the artbook, it's also at a discount, albeit a smaller one. Still, a discount is a discount, so if you're eyeing either version of The Art of the Last of Us Part II, grab it now.
---
If you've been dying to kick Vegeta's ass as much as I want to, today is a pretty good day to pick up Dragon Ball FighterZ. The physical copy on Nintendo Switch is only $20, a rarity for this 2D brawler.
FighterZ has emerged as a top fighting game in the pro scene after years of the franchise suffering from rushed cash grabs. There are actual skill mechanics now, though newbies can still button mash their way to a win every now and then. Get started now, and you might be able to beat Sonic Fox at next year's EVO (if he decides not to go Super Saiyan on you with the snap of a finger).
---
If you need more desk buddies to join you in your daily digital fight against, well, everything these days—and you also happen to be a raging Final Fantasy fan—go ahead and just add this one to cart without even looking and speed to checkout.
Now that you've satiated your impulsive side, here's what you've won: a $64 box housing eight Final Fantasy VII polygon figurines!
Remember at the beginning of quarantine sixty years ago when everyone was trying to make Dalgona coffee. Apparently it's easier than it looked but I quickly abandoned the idea because I did not have a hand mixer or frother. Today Amazon has this one from Bonsenkitchen for just $12.
I like that in the reviews someone brought up how portable and lightweight it is, which I guess if you have a coffee/milk emergency you could carry it with you. But it does look easy to operate with just one button and it's easy to clean, unlike other kitchen appliances. It's tiny but powerful so you'll be able to enjoy your Dalgona coffee in twenty seconds or less.
Free shipping for all Prime members.
---
When you cook a bunch of food you get a bunch of leftovers, so why not invest in a set of $25 glass containers? They're leak-proof as well as BPA-free, and the glass containers themselves are microwave and oven-safe! You can also throw them in the dishwasher, or place them in your freezer for even more organization. Grab em' before they're gone!
---
The last thing anyone wants in these times is to be stranded on the side of the road. If you're interested in proofing yourself for future car trouble, Tacklife's latest deal is a sweet one. You can save 35% on its 800A jump starter when you clip the coupon at Amazon and apply promo code 47SW6UJH, bringing your total down from $70 to $45.
Tacklife's 800A unit comes with the battery clamps needed to jump any 7.0L gas or 5.5L diesel engine. With dual fast-charging USB ports and an 18,000mAh cell inside, you can also be sure your phone won't die on you at the worst possible moment.
---
Oh did you think these were for something else? Despite the company name, these satin pillowcases are ultrasoft and wrinkle-resistant for your…….hair and skin. They're available in thirteen different colors all for about $7.
This pillowcase prevents knotted and matted hair if you are a more active sleeper. The high-quality satin is for those who have a mess of curly hair like me. It reduces friction to keep frizz and bedhead to a minimum in the morning. But a good pillowcase can minimize hair damage and breakage across the board. Satin cases have been known to treat your skin better too by helping prevent wrinkles and they won't dry out your skin. Easy to launder so it's won't lose an ounce of its plushness and interrupt your beauty sleep.
Free shipping for Prime members.
---
Today at SideDeal, you can get a VAVA Mini dash cam for only $29. It has a 1080p camera with 140-degree wide angle recording to make ensure you capture everything in front of you. With a protruding lens and a 3-inch LCD, it almost looks like a digital camera. This model features motion detection, too, so it'll automatically record the moments leading up to any collision, driving or otherwise. You'll get an 8GB SD card with your purchase. Find it for $29 at SideDeal.
---
If you have some hardcore cleaning to do outside the house, you'll probably be interested in a pressure washer. It'll blast dirt and grime from the sides of your house and your driveway, and it's also a great way to clean your car. Sun Joe's model is on sale as part of Amazon's daily Gold Box with a steep 50% discount. Your total is $123 before taxes kick in.
---
We always want the best for our pets and making them as comfy as possible is key. I've got a senior Jack Russell so I'm constantly checking to see if he's cozy, especially when sleeping. He is in love with the donut bed I got him and is now his favorite place to snooze. These three beds are some of Wayfair's deepest discounts and best sellers in the category. And all are on sale for over 50% off.
The Babineaux Bolster Donut (bottom in the pic) is plush and luxurious. It's made of tonal faux fur fabric and comes in three sizes and three colors. It'll make any pupper or kitty comfy in slumber town. It's also only $29. The Shag Donut Rounder (top left) comes in two colors and five sizes. So this one really runs from big good boys to itty bitty good boys. It's $40 and made from durable nylon and the softest faux fur. Cosme Donut Bolster (top right) is a non-furry option currently available in eight colors and three sizes. It's made of high-quality polyester fabric to withstand even the roughest of doggos who try to fluff and burrow. This bed is now $62 which is 53% off on its original price.
All these are easy to clean and honestly any fur baby can enjoy them. This isn't a dog only party. Although, that sounds amazing.
Get free shipping on all orders over $35.
---
Sounds like baseball might be back but with the new world order, we probably won't have dugouts with buckets full of double bubble and bazooka joe. Hard to imagine they'll allowing chewing and spitting this season as years gone by. But that doesn't mean you can't relive that magic. This giant box of Bazooka gum is 30% off today and at least this one is sugar-free.
There are only two types of Bazooka gum: soft and rock hard. The rock hard ones always turned up when you were trick or treating as a kid, right?! But I was flooded with a lot of childhood memories when I saw this box on sale. Blowing giant bubbles at the beach, collecting Bazooka Joe comic strips, and watching my cousin get this stick in her hair. This box is cool because it's split up into six on-the-go cups each with ten pieces of guaranteed crunchy outer shell and soft middle gum. It says it's American Dental Association approved because it's sugar-free but I just don't know Joe, I just don't know.
Prime members get free shipping on this item.
---
If you don't have the money for a smart home security system, an inexpensive motion-sensing floodlight could be an effective alternative. Its 80-LED panel will shine at up to 900 lumens when it notices movement, which should help deter anyone who took your home for an easy shake. With weatherproof construction and solar-powered energy, you can slap one to the side of your home with little maintenance to worry about. Only $29 at SideDeal.
---
Whew, all the food lovers rejoice! The Ninja Foodi pressure cooker, tender crisper, and air fryer is down to $129, which is $51 off the original list price. For all who don't understand the magic of this cute kitchen appliance, you can air fry literally whatever you want (fries, chicken wings, even BROCOLLI!), and can use the pressure cooker to make juicy, savory meats and stews in the fraction of the time it would take on a traditional stove. I have one, and let me tell y'all. I've made baby back ribs, chicken wings, and even mashed potatoes in this bad boy. It's a mistake not to grab one before they're all gone.
---
If you've taken a Delta or United flight in past few years you've probably gotten a pack of cookies with your complimentary beverage. Lotus Biscoff is those cookies. United did announce earlier this year it was trading these in for Oreos which is a crime against nature. But Delta is standing by her Belgium cookie man.
Save $10 in the deal and be your own flight attendant assuring tastiness arrives on time every time. Equal parts cinnamon, ginger, and nutmeg these biscuits melt in your mouth like butter, your only destination is savory-ville.
Free shipping for Prime members.
---
You never realize how much a good toaster can mean to you until you have one that continuously burns your bagels no matter the setting. Holife's stainless steel toaster with wide slots might be the answer for your hot buns. It's a total of $22 off the list price when you clip the Amazon coupon right now.
There are six toasting settings to satisfy those who like a lite crisp or those who want their toast burnt to hell. The extra-wide slots allow for ultimate and even toasting. The wider slot also gives you more options of what you can efficiently pop in there like waffles, texas toast, artisanal bread that is a little thicker, and of course bagels. You can also reheat or defrost any of those to perfection. I don't know why but I love that this has a LED countdown timer. This little guy is easy to clean with its removable crumb tray and is compact enough to fit on any counter. Plus it cools down fast.
---
I can't be the only one who lives in a house of many and notices the availability of silverware slowly diminishing with time. Someone's accidentally throwing those forks away, dammit, and no one wants to fess up. I prefer to just replace them, and if you're a fancy pants, this stainless steel set is perfect. You'll get 51 pieces for $49, broken down as follows:
8x Dinner Fork
8x Salad Fork
8x Dinner Spoons
8x Dinner Knives
8x Steak Knives
8x Teaspoons
1x Table Spoon
1x Slotted Table Spoon
1x Cold Meat Fork
---
If you're quarantining away from home, or just need to keep a close eye on your apartment while you're out and about, a good security system can help give you the peace of mind that everything's safe and sound. That extra security isn't cheap, though; an Arlo security system can run over $400. Now and then, though, a good deal comes by and you can get a few lenses to watch over your humble abode for a decent price.
Right now, Newegg has an Arlo Pro 2 security system, which comes with two cameras, for $235 when you use promo code NEAR622ES at checkout. That's still not exactly cheap, but $215 is a solid discount, and not a bad price to quell the anxiety of not knowing what's going on at home.
---
Even the best grill masters need to practice safety while cooking. Unless you exalt BBQ blisters as permanent battle scars, a pair of heat-resistant gloves is ideal to have on hand (GET IT?!) when it's time to flip the meats.
They're only $19 at MorningSave in your choice of Black, Blue, or Red. Grab a pair (or two) and save yourself potential days of misery this summer.
Yes, I have actually been in the presence of one of these and no it wasn't in the office of an 80's high powered jerk executive. You can grab your PutterBall for the backyard, office, or living room today for 15% off. Just use the code KINJA15.
What's PutterBall? It's a portable turf board, as mentioned before, that can be placed anywhere that's flat. It's got twelve holes at one end and basically operates with the rules of beer pong. It comes with twelve covers to place over the holes once you sink it. The two putters are good for righties or lefties which is a nice touch. Marked down to $170 I'd say this is a great piece to have for indoor and outdoor parties. Or honestly use it as one of my buddies does to practice your touch. He's also a professional caddy. These skills translate.
Shipping is $15.
---
Back when we were all allowed to go about our lives as we pleased I used to do most of my work in a neighborhood French cafe. I would bring my laptop everywhere so a sturdy backpack that kept it safe was key. In today's SideDeal there's one that does just that and is only $18.
This sizable bookbag from Incase is almost nineteen inches in height so plenty of room for lappy and anything else you need to take with you. The black nylon exterior keeps it's cleaner and won't show any dirt. The inside is faux fur to keep a fifteen-inch laptop snug and protected. There are four slip pockets and two pen slots for the little extras you need to toss in. The straps are durable to withstand wear and tear of many travels. Now here's the kicker, this bag was originally $120. That's over 80% off so I'm sure it will sell fast.
If you've read a few of our pieces on SideDeal before and you like what you've seen they offer a $5 monthly fee to get free shipping on all of your orders no matter how many. Otherwise, it's a flat rate of $8.
---
As Amazon's Big Style Sale rolls on this week more and more of the best deals are selling out and lots of discounted items are back to full price. Gentlemen, you're up today. This casual American prep ensemble is just basic items you can use in a ton of looks.
Penguin is quintessential prep. Their fitted button-downs and polos are quality in materials and in structure. A neutral polo is an easy way to bring the classiness of an outfit up a notch or two. Pair it with jeans or golf shorts and you're good to go. Most Penguin polos are on sale today but I like this navy one for 35% off.
And a great pair of jeans appeared. Lucky's slim fit jeans will go perfectly with any polo or tee. They're 50% off their original price as mosy Lucky jeans are. You do however have to play with the sizing which will have the price fluctuate a little bit up or down. The standard even dark wash is a great pair you should have in your closet.
I will say this every time I put a fashion list together, white sneakers are sharp and instantly class up whatever you are wearing. White kicks are somehow both casual and dressy, it's a modern mystery. Adidas are absolute kings in this realm and these white sneakers with a pop of navy are still available in multiple sizes.
Check back tomorrow for more discounts in this crazy awesome sale and remember there's free shipping on all these items if you're a Prime member.
---
Because of the COVID-19 pandemic, Ella Paradis is experiencing fulfillment delays for some products. If you have any issues, make sure to contact their customer service page for any help.
It's summertime and the living is easy. You can make it easier with this Ella Paradis sizzlin' summer bundle. It includes two vibrators and a tube of Lelo lube for a sexy $49. Those long summer days can be spent by having orgasm after orgasm, because who doesn't approve of a little afternoon delight?! Grab this deal before it's gone!
---
Pride in NYC is one of my favorite events every June. I am a respectful straight and know it is in no way about me but understand my power as an ally. There's nothing like supporting my LGBTQ pals with us all rocking the rainbow. Alternative Apparel wants to get you all geared up for Pride too no matter how you celebrate. Take 50% off their colorful collection, just use the code PRIDE50.
There are these two very cute rainbow options in a tee ($19) and tank ($14) depending on taste. But this is a sale also celebrating all the colors of the rainbow. Ok, all these tie-dye pieces are adorable and very trendy. Did I just say everyone was doing this is a cropped hoodie? Yes, and they have them in six colors for $32 with the discount. Don't forget to top it all off with a classic pastel dad hat for $8 in this sale.
Free shipping on all orders over $65. Sale ends June 28.
---
As Amazon's Big Style Sale rolls on this week more and more of the best deals are selling out and lots of discounted items are back to full price. Today we have a look everyone wants to rock, tie-dye athleisure. It's a trend that blew up during quarantine and doesn't look to be going anywhere.
The foundation of this ensemble is the tie-dye and you want it to be the focus. This crop hoodie from Calvin Klein is a beautiful blush and pink tie-dye couldn't be more trendy plus it's 43% off. Every designer has a cropped hoodie for sale, there are four color options for this one. I firmly believe anyone can wear one too. If you feel a little self-conscious throw a fitted tank or camisole underneath.
From here you want basics. Black leggings are definitely a heavy lifter in the athleisure family and Amazon has the perfect plain black ones for 24% off today. You'll definitely get your money's worth with any pair of black leggings.
Again we want basics but that doesn't mean you can't introduce a classic item into the mix. You know I love fresh white kicks and Adidas are the best. I have a pair of these Stan Smith's and can wear them with just about any outfit. They're 28% off and tie your dyed vibe altogether.
Check back tomorrow for more discounts in this crazy awesome sale and remember there's free shipping on all these items if you're a Prime member.
---
Wearing your old gym clothes or favorite pair of sweat pants while you crunch away at work is pretty nice, but maybe you're getting sick of your quarantine wardrobe. Even if you're not, a change in your attire can be fun from time to time, and a good sale will make you feel a little better about getting yourself something nice. Right now, you can get up to 35% off select pants from Duer, and there's plenty of options in both men and women's styles.
---
For many of us, sheltering in place doesn't look to be ending any time soon. That's mostly fine, but it's never fun to get a fresh new outfit and not be able to wear it out and flaunt it.
Still, it's tough to pass up a good sale, and those spiffy new threads will still be there when it's safe to roam about again. Huckberry has a huge selection of outerwear, ranging from coats and blazers to boots and wallets. The company's Spring Outerwear Sale really only covers jackets and coats, but the discounts are definitely worth taking a peek—some jackets are as much as $100 off.
---
Because nothing says freedom like government-authorized cannabis extract, Sunday Scaries is offering up the bundle of a lifetime to celebrate the 4th of July this year. For just $49, you can chew vitamin D3- and B12-infused CBD gummies to alleviate tension and help with focus, munch on Unicorn Jerky candy to ease your caffeine jitters, and take YOLO shot energy blends to ramp them back up. No matter who you are or what kind of vibe you're going for this holiday, I'm betting there's something here for you. Sunday Scaries has been featured on Buzzfeed, Forbes, Cosmopolitan, and more.
---
This week Amazon is having its Big Style Sale, featuring deals from huge lifestyle brands that you can buy from at discounted prices until Friday! This means you can go ahead and stock up on some dope clothes from American Apparel! These select styles are up to 40% off and will look trendy AF, even if the brick and mortar stores don't exactly exist anymore.
---
One of my favorite things going in Amazon's Big Style Sale right now are these cute little cubcoats. They start as plushie dolls of your favorite characters across Disney, DC, and more, but unzip their backside and you'll find it transforms into a wearable hoodie. You'll find some as cheap as $18, and a vast majority are just $25. You have the likes of Darth Vader, Mickey and Minnie Mouse, Piglet and Pooh Bear, Hello Kitty, Bob the Minion, Marshall from Paw Patrol, Batman, Black Panther, Spider-Man, and more. Grab your little one and shop around right here.
---
This week Amazon is having its Big Style Sale, featuring deals from huge lifestyle brands that you can buy from at discounted prices until Friday! So, for a short time, you can save up to 30% percent on New Balance sneakers and apparel. So if you need some running sneakers, or even a new pair just for summer, I would pick some up before they're gone!
---
If you've been on our site recently you know we are big fans of the Satisfyer Pro 2, our own Jolie Kerr had a pretty in-depth review. She really went above and beyond in double-clicking for hours of accurate testing. I can personally say this is the best vibrator I've ever had and you should probably grab this while it's still in stock. That's not to knock the other solo aviator products in the line, just the Pro 2 is far and away the best.
There are traditional rabbit vibes, g-spot stimulators, and truly magic wands included in this sale as well. It's a buffet of pleasures and at these prices grab two or three. Just remember to use the code KJSTSY at check out.
Free shipping on all orders.
---
Amazon wants to reward its loyal customers with deep discounts on some of their top-brands and their collaboration with Shopbop and influencers alike. Starting today you'll begin to see this section populated with unreal price slashes on the most stylish of threads and accessories.
A denim dress like this is super classic and it's easy to dress it up or down for to be super chic. This dress would be perfect for a summer picnic or a breezy night out. Amazon collaborated with several stylists/influencers to curate this sale and this is one of Danielle Downing Stackhouse's top picks. This dress usually runs for $98 and is 100% cotton. So you'll also want to make sure to have a good streamer to keep this wrinkle-free.
White sneakers are the pinnacle of summer fashion and go with basically anything. Pair them with the denim dress for a sporty and fun vibe. These ones from Superga are 65% off their original price and are being recommended by a few stylists. It's probably because they are such a versatile item to have in your wardrobe.
Much like white sneakers, this woven bamboo bag is very on-trend. If you've read our Anthropologie pieces straw purses are usually spotlighted. This crossbody bag has three different strap options. I like this tan one as it's not as harsh a look like the black might be against the light denim. This Frye and Co. bag is almost $70 less than the original price and is another favorite of stylists.
Check back tomorrow for more discounts in this crazy awesome sale and remember there's free shipping on all these items if you're a Prime member.
Ever curious why every dog happens? (Spoiler: it's for a reason.) How about what lies behind The Ten Thousand Doors of January, or even Her Eyes? You will learn about these things and so much more from Amazon's top Kindle deals today. Starting at $1, you don't need to be bookish to enjoy a good (or bad) read. If that's $1 too many for some of these titles, you can also subscribe to Amazon Kindle Unlimited for 1 month, free of charge, and if you like it, never pay full price for an eBook again. Check out the whole catalog and report back on your findings in the comments below.
If you're super into rest and relaxation all year long, you may want to consider a cute, tin can candle from Urban Outfitters. They come in 10 scents and you can place a cap on them after you've had enough of the feel-good smells, plus they're only $10. I'd suggest using them in the bath, or, in the hot tub if you have one.
---
One of Fenty's most anticipated products is finally here! After having the launch date bumped for all the right reasons we've got ten new sheer lipsticks from Rihanna. And if you purchase two they want to gift you a wristlet to put them in.
Sheer lipstick is wonderful because no mirror or compact is needed to know it went on flawlessly. Rhianna selected ten beautiful shades that compliment any skin tone. The nourishing ingredients won't leave lips dry and ensure shimmer and gloss for hours. They are creamy and buildable which I really like because sometimes I love a matte that I want to add a little pop to. I'm looking at you, Quartz Candy! Each slip shine runs for $22.
No code needed to get the lipstick bag, just add to slip shines to the cart and it'll work its magic. Free shipping on all orders and the deal will run until these are all gone.
---
Adidas has something for everyone in its corner of Amazon's Big Style Sale, but I want to highlight some of these cool bags, such as a dual-compartment drawstring sackpack that's just $11, or a colorful Santiago lunch bag that helps you celebrate pride in style for $19. Duffel bags come in a range of styles starting at $22, too. To shake things up, ladies can pull off the proud mother style whenever soccer practice resumes with an assortment of Saturday caps starting at $11.
Of course, there are shoes, socks, hoodies, and all sorts of other apparel items on tap, so check out the full selection from Adidas right here.
---
Amazon wants to reward its loyal customers with deep discounts on some of their top-brands and their collaboration with Shopbop and influencers alike. Starting today you'll begin to see this section populated with unreal price slashes on the most stylish of threads and accessories.
Summertime means fun in the fun and if you want ultimate fun where you can actually see sunnies are needed. Five different color combo pairs of Ray Ban's Wayfarer II are on sale today and they are a must. I've seen these as high as $184 before so this is a nice discount of 33%.
This beautiful Ash Rose dress from BB Dakota is an Editor pick and we see why. It's the perfect mix of dressy and casual. The floral print is the perfect touch of feminine for sundress season. The flowy sleeves and light polyester will keep you cool in even the warmest of locations. It will also keep you cool with your trendiest of pals. This dress usually runs around $110.
Now you'll need something cute and sandal-like to go with this dress and stylist/influencer Sabrina Tan is loving these platform wedges from Soludos. A tan color is perfect because it matches with everything and it can carry you right into a warm fall. They're versatile and even work perfectly with a pair of shorts or jeans. These are currently $149 on Soludos' website.
Check back tomorrow for more discounts in this crazy awesome sale and remember there's free shipping on all these items if you're a Prime member.
---
Aside from correcting your vision, prescription glasses have many practical benefits—such as protecting your eyes from finger pokes (intentional or otherwise). On the downside, glasses get dirty, smudged with fingerprints, and very foggy at times.
GlassesUSA can help on that last front, at least. When you place a new glasses order for $100 or more and use the Kinja Deals exclusive code FREEFOG, you'll get free anti-fog lens coating! That's especially handy right now for those of us suffering through foggy lenses while wearing a mask, so if you need new glasses, hit the link and take advantage of this offer.
---
Don't have a kitchen? Then a portable burner will be your best friend. With them, you can still cook some foods, because a microwave and constant takeout isn't going to cut it. SUNAVO's induction burner will definitely get the job done and then some, with its safety features and multiple settings.
Even if you have a fully-functioning kitchen, though, there are other uses for a portable burner! If you have a power supply while camping, this baby can be perfect. Or, if you need to cook or keep something warm on the dining room table, bam. Use the code SNE7CPKC and clip the coupon to get the best discount.
---
People have a lot of shit to say about Segways. But I bet those people don't need to walk two and a half miles to get to a bus stop, so they can shut their pieholes. If you want or need a Segway to get around, Ninebot's self-balancing segway is down to $416, which is a pretty darn good deal.
This Segway has a knee bar, which makes it easier to balance on it. In addition, it's lightweight, making it easy to carry around when you can't seg your way around. You can pick one up in black or white, but make sure to grab it before the sale ends!
---
From the company that brought you the Litter-Robot 3 Connect I reviewed last week and the catnip-infused foam wash I reviewed back in March emerges a relatively new subscription service for clay clumping kitty litter. As an exclusive treat to Kinja Deals readers, Litterbox.com is offering up a 20% discount on your first order using the promo code KINJA20. The "catch" is that you have to subscribe to at least the every-4-week plan, as the code isn't valid for individual one-off orders.
Never again will you be forced to suffer from the putrid smells of a befouled litter box—or Litter-Robot, if that's your jam. While I've not used this particular brand of litter myself, I have tested the $499 Litter-Robot 3 Connect extensively, and at the very least I think you should, too. In fact, this litter is made to pair with the Litter-Robot and vice versa, even if they don't necessarily have to be purchased in conjunction. Here's an excerpt from my review, in case you refuse to click links without a sneak preview first:
Apart from the comically high asking price, our friends at the equally dystopically named Automated Pet Care Products have delivered on every front. Though you won't find it sold at more ubiquitous third-party retailers like Amazon or even Chewy, the Litter-Robot 3 Connect is available at the Litter-Robot website and at Litterbox.com. From the latter, I recommend perusing their whole range of cat supplies, many of which I've tested myself, including Porky's favorite catnip spray, The Fish, mice under the couch, the mat my dog peed on, and SO MUCH MORE.
---
At Amazon, you can grab the newest MacBook Air for $100 off, a $900 final total. This model features 8GB of RAM and a 256GB solid-state drive. This particular model packs an Intel Core i3 processor and comes with Two USB-C ports with support for Thunderbolt and Display port, a USB 3.1 Gen 2 port, and Bluetooth 5.0 with Wi-Fi AC speeds for wireless connectivity.
This deal was originally published by Quentyn Kennemer on 6/9/2020 and updated by Gabe Carey with new information on 6/22/2020.
---
I don't know about you guys, but I often forget to plug in my (somewhat ancient) iPhone 8 Plus almost every other night, despite the cord being right on my nightstand. I'm sure there are a couple of folks who do the same thing, and I'm here to tell you we don't have to suffer anymore. The Anker Powerwave charging pad and charging stand are grouped in one package for $23, no code necessary.
You can charge both iPhones and Androids at a pretty good speed. The best part is that you don't have to take off your phone case to get a good charge! It can deliver power with cases up to 5mm thick, so don't worry about your phone mysteriously falling and breaking its back on the cold, hard floor. I'd grab this duo before it is gone!
This article was originally published by Ignacia Fulcher on 4/29/2020 and updated by Quentyn Kennemer with new information on 6/22/2020.
---
Listen to your favorite music with a pair of Liberty 2 Headphones from Anker. They've dropped in price from $100 to $80, saving you about twenty bucks. They go straight in your ear, connect to any device through Bluetooth, and have about 28 hours of playtime. What are you waiting for? Grab a pair before they're gone.
---
Another one of Amazon's crazy combo deals is on tap with an Echo Show 5 that ships with a Blink Mini indoor security camera for $65. This combo is normally $125, and an Echo Show 5 alone typically sits around $60 and the Blink is usually $35, so this is a rare discount for sure.
The Blink Mini offers a 1080p wide angle feed to monitor your home's most important areas, with motion detection on board to alert you whenever there's movement about.
You'll need a subscription if you want to record those moments and save them to the cloud for later viewing, but you currently get service through December 2020 with every purchase, which is more than enough time to decide whether it's worth the long-term investment.
---
Named the best smartwatch by our sister site Gizmodo, the Apple Watch Series 5 improved on its predecessor by leaps and bounds. It may sound like a contradiction to say a smartwatch's battery life was extended at the same time it was treated to an always-on display, and yet the latest Apple Watch pulls off both feats with ease.
Over at Amazon, the GPS-only models are $100 off today—no matter which version you pick—so whether you need a 40mm or larger 44mm face; a Space Gray, Gold, or Silver aluminum finish, you'll be pleased with the savings. These have been going in and out of stock due to high demand, so be sure to check all of the color and size options.
In her review, Victoria Song wrote of the Apple Watch Series 5:
The Apple Watch is hands-down the best smartwatch out there. There, I said it. It's a boring conclusion that is nevertheless the cold, hard truth. You can prefer a round face, or a different operating system. You can scream about better battery life and third-party watch faces until you die, purple-faced from asphyxiation. The Series 5 still reigns king. That's true even if this time around, most of the updates are small tweaks rather than game-changers.