Handheld gaming PCs have been around for longer than their recent boom might indicate, even if the Steam Deck blew the doors off of the market by making a model that the average person could actually afford. While Valve may lay claim to being the "best value" portable PC with its loss-leadingly low price, if you're in the market for comfort, sheer performance, or the functionality of having Windows right out of the box, there are plenty of more capable Steam Deck alternatives available to those with bigger budgets. It's in this space where Ayaneo has traditionally operated, offering full-fledged Windows gaming PCs with high-performance components and instant compatibility across Steam and every other launcher's full library.
Premium is kind of the direction you have to go in if you don't also own some kind of store that lets you subsidize low cost products for the mass market. To enthusiasts, Ayaneo's sometimes four figure devices have been mouthwatering, but even a boutique manufacturer can't ignore the Steam Deck forever. Valve is now the elephant in the corner of every handheld PC manufacturer's room.
Launching alongside the flagship Ayaneo 2, the Ayaneo Geek (available on IndieGoGo) maintains a premium status but is the first of the company's full power handhelds to at least get within spitting distance of the Steam Deck's price (there's the Ayaneo Air, but it's intended for less demanding games than the Deck). It features more in common with the Ayaneo 2 than it doesn't, including its excellent Hall Effect joysticks and a powerful AMD Ryzen 7 6800U processor. But it starts $150 cheaper than the Ayaneo 2, at $849. That will still set you back more than even the most expensive Steam Deck ($640). But if you're just looking to spend less than $1,000 for a genuine Windows gaming PC that's more powerful than the Deck and isn't much bigger than a Nintendo Switch OLED, it's a great choice, especially compared to gaming laptops. Finally, we have a "budget" boutique Steam Deck competitor. Or, if it helps to think of it this way, a somewhat affordable "Steam Deck Pro."
A capable AMD Ryzen 6800U handheld gaming PC
Despite its Nintendo Switch-like design, the Ayaneo Geek is a full-fledged gaming PC and has the specs to match. The most affordable model comes with 16GB of DDR5 memory clocked to a rapid 6,400MHz and includes a 512GB NVME SSD. The SSD can be upgraded to 1TB or 2TB for another $150 and $250, respectively. The top tier model is currently priced at $1,199 and includes 32GB of memory and a 2TB SSD, but if all you need is storage, the Geek also supports MicroSD cards for a cheaper alternative (albeit at a slower 300 MB/s speed). The Geek is also available with 800p or 1200p screens, even if this is slightly unclear on the current IndieGoGo campaign.
G/O Media may get a commission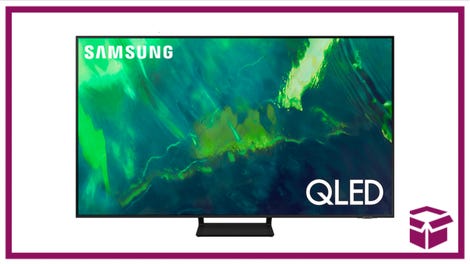 35% off
Samsung Q70A QLED 4K TV
Save big with this Samsung sale
If you're ready to drop some cash on a TV, now's a great time to do it. You can score the 75-inch Samsung Q70A QLED 4K TV for a whopping $800 off. That knocks the price down to $1,500 from $2,300, which is 35% off. This is a lot of TV for the money, and it also happens to be one of the best 4K TVs you can buy right now, according to Gizmodo.
As the budget counterpart to the pricier Ayaneo 2, the Geek is remarkably similar and really just feels like a slightly pared down version of the flagship model. You're getting the same fast Ryzen 7 6800U processor, so gaming performance is the same between both models. It uses the same outstanding Hall Effect triggers and joysticks, which feel great and are immune to joystick drift. Both units have bright 7-inch touchscreen displays. Their layouts and control schemes are the same, though the Ayaneo 2 offers more customization options for the buttons and triggers. They're nearly identical in shape, size, and weight. Both offer a 50.25 wHr battery.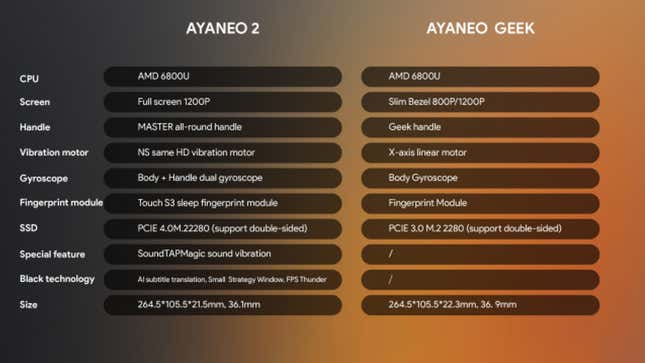 There are a handful of differences, but they're overall small and feel like fair scale-backs for the lower price. The biggest difference is that the Ayaneo 2 features an edge-to-edge display while the Geek has thin bezels on all sides. There are other smaller differences, too. The Geek has a single gyroscope for motion aiming while the Ayaneo 2 has two. The Geek has a linear vibration motor instead of the 2's HD motor, which Ayaneo says is identical to the one in the Nintendo Switch. The Geek also ships with a PCIe 3.0 NVMe SSD instead of the newer PCIe 4.0 drive that comes with the Ayaneo 2, though the impact on load times is small enough that you may not even notice. The flagship model also comes with a full glass front while the Geek just has a glass screen.
There are clear quality of life improvements that come with the more expensive model, but the Geek really doesn't feel like much of a step down at all, especially if you're comparing it to the Steam Deck. I've used both extensively and the most noticeable difference is the screen, which you quickly get used to and won't notice at all if you don't have both models side by side. If you have the money for the Ayaneo 2, it delivers the better experience over all, but the Geek is the rare tech purchase that doesn't feel like you're making a big sacrifice by opting for the cheaper model.
Like the Nintendo Switch and a gaming laptop had a baby
The Ayaneo Geek is what would happen if the Nintendo Switch and a gaming laptop had a baby. The Geek is a touch larger than the Switch OLED but has a very similar layout. The Geek adopts a much more curved design than Nintendo's console, however. It has an ovular face and deep, curved grips that Ayaneo says are based on a baby's sleeping position. The controllers are also non-removable, so you'll need to hold the Geek in your hands unless you plug in peripherals and a docking station.
Despite the similarities to a Switch with default joycons, the Geek is far nicer to actually use. The grips are thick and contoured, tapering toward the top to guide your fingers toward the triggers. The sticks are bigger, smoother, and have more throw. The triggers have a deep, controller-like pull. The buttons are snappy and more crisp than the Steam Deck's. Like any handheld, everything still feels slightly compressed: the right joystick in particular feels just a hair too low for even my medium-sized hands. Even so, I would take the Ayaneo Geek over either the Switch or Steam Deck any day of the week when it comes to comfort and ease of use. Even if the Geek is ever so slightly heavier than the Steam Deck, at 680 grams vs the Deck's 669.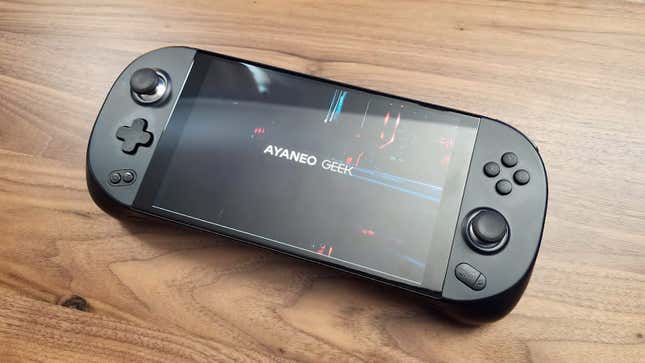 Ayaneo has outfitted the Geek with an array of extra buttons to navigate Windows and access its different options. There are View and Menu buttons below the D-pad on the left (mimicking an Xbox controller, and generally fulfilling the same role as Start and Select on more old-school devices). Two more extra buttons are positioned below the right joystick. One can be mapped to a custom command while the other, the Aya button, can be clicked to access a quick settings adjustment menu or held to draw up the full AYASpace settings software suite. There are bumpers and triggers on the top, as well as a pair of shoulder buttons that can be tied to custom commands, like raising the on-screen keyboard or Task Manager.
This isn't a full laptop, so I/O is limited. There are three USB Type-C ports total here: two on top and one on bottom, and each can be used for power or data. There are two USB Type-C to Type-A adapters in the box for connecting peripherals, but you'll need a docking station to connect the Geek to an external monitor if you plan to use it as a full PC. There's also a power button with an integrated fingerprint reader for biometric login, a volume rocker, headphone jack, and a MicroSD card slot for expandable storage.
Hall Effect analog sticks and snappy buttons
Like the Ayaneo 2, the Ayaneo Next, and the Ayaneo Air before it, the Ayaneo Geek uses Hall Effect triggers and joysticks. As the axiom goes, if it ain't broke, don't fix it, and this design is anything but broken. Rather than using mechanical potentiometers for its triggers and joysticks, the Geek uses magnetic sensors to detect movement. The lack of mechanical wear and tear all but eliminates the chance for joystick drift and makes these inputs some of the smoothest you'll find on any gaming controller. With the right software tuning, you can even customize your deadzones (the parts of a joystick that your controller doesn't read, so as to avoid small random movements).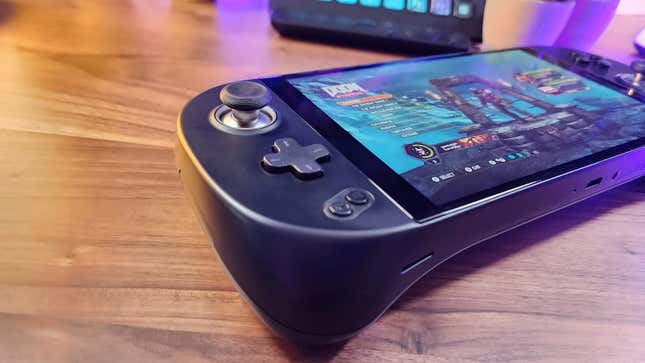 While all of the Geek's inputs are smaller than what you'll find on a normal controller, they still feel closer than you might expect. The added throw on the triggers and joysticks, while not as deep as on an Xbox or PlayStation controller, feel much closer than you might expect and are noticeably deeper than on the Steam Deck. The triggers especially feel at home in my console-acquainted hands, yet all the better for their added smoothness. The sticks have a bit more of a learning curve due to their reduced height and are less accurate than a full-size controller because of it. Using the built-in gyro helps to fine-tune aiming; however, the Geek requires installing an applet to enable motion controls while the Ayaneo 2 has them built in from the start.
The face buttons are snappy and tactile. There's no mushiness to them at all, which is great for button heavy games like platformers. The D-pad is a bit less crisp, with a slight wiggle to the cross, but it worked for a casual like me, even in fighting games. Each is a big improvement from the Steam Deck's somewhat mushy inputs, however, and all in all, make the Ayaneo Geek surprisingly great to game on.
A bright and colorful screen that begs for OLED
The Geek's 7-inch screen is bright and colorful. Even though it lacks the edge-to-edge coverage of the Ayaneo 2, it still feels fairly large thanks to its 16:10 aspect ratio. Ayaneo quotes a peak brightness of 400 nits, and I've discovered multiple times that it's bright enough to play in direct sunlight. It doesn't support advanced features like HDR support or gaming at 120Hz, but for most games, those are non-issues. And really, would you expect either from a handheld designed to be cost friendly?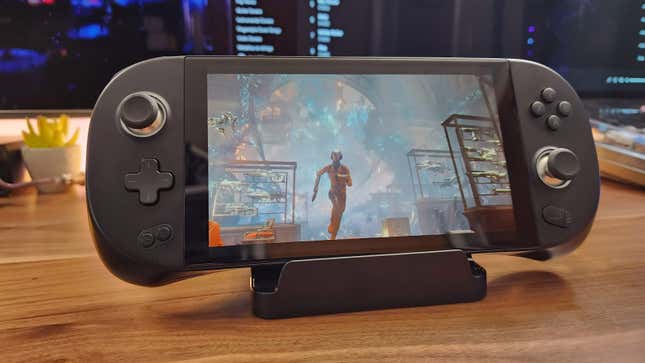 No, and neither would you expect an OLED screen, but the Geek begs for it. The colors are rich and blacks are fine, but after seeing how much better OLED can look on the Ayaneo Air, the Geek isn't quite as impressive without it. Contrast levels are typical for an LCD screen, with blacks being more of a deep gray, but the rich contrast and inky blacks of the Air would have pushed this to another level.
The screen supports touch input, and it overall works well. The screen is responsive and registers presses reliably. The biggest challenge is tapping on-screen elements that can just be, well, tiny. The Geek packs a full, desktop version of Windows 11. Even with Windows scaling turned on, choosing items in drop down menus or navigating settings within applications can be difficult. AYASpace, the Geek's configuration software, solves this by allowing you to control a virtual mouse cursor using the joysticks. It doesn't replace using an actual mouse, but works surprisingly well when touch doesn't cut it.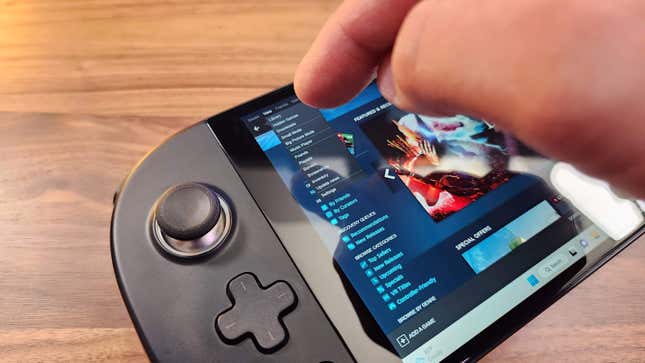 The screen is available in 800p or 1200p options, but it's not worth paying extra for the 1200p screen, even if 800p will net you the same resolution as the less costly Steam Deck. While the added resolution might sound great on paper, it has a significant impact on gaming performance and doesn't offer a major advantage in visual quality. In fact, that resolution bump is mainly only visible in still images–remember, the screen here is just 7 inches. Unless you're playing older games or indies, it's better to leave the screen at 800p and enjoy a higher FPS with more responsive gameplay.
AYASpace is the Ayaneo Geek's backbone
AYASpace is the Geek's main configuration app and the backbone to using it as an actual computer. The software, called up using the dedicated AYA button below the right joystick, acts as a central hub for all of your configuration options, and you can also use it as a game launcher. Inside, you can set your TDP (the power limit for the system's processor), fan speed, button shortcuts, and more. It's also where you'll go to download and apply firmware updates as they're released over time.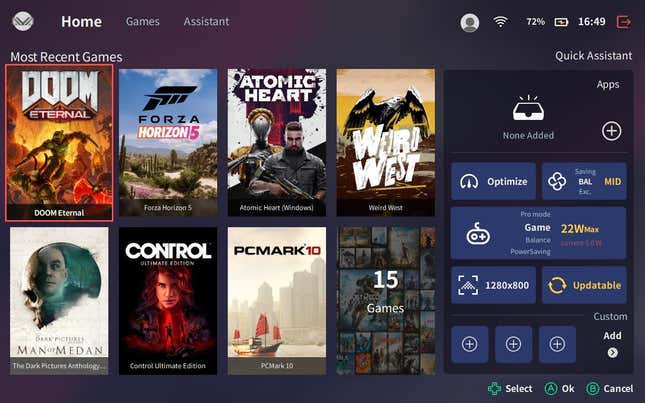 Tapping the AYA button also brings up a quick menu for when you want to make fast changes or send common commands. It allows you to change the performance settings, brightness, and volume. You can assign nine different shortcuts for things like putting the system to sleep, enabling system-wide FSR upscaling, or force closing games. It's fast and reliable, and if you happen to quit AYASpace by accident, you'll immediately miss it.
AYASpace is still in beta and it shows. It's improved by leaps and bounds over the last year, but there are still rough edges, with instances of broken English, Chinese only descriptions in many applets, and a propensity to reset itself to Chinese with software updates. Despite that, it overall works well. If you should happen to find yourself stuck in Chinese, you can change your language by clicking on your profile in the top right corner, then clicking on the hexagon with a dash icon through it in the next menu. The next screen has language settings in the left-most option of the middle row.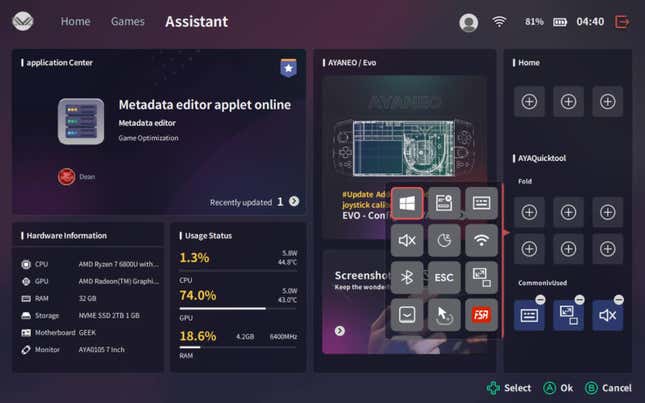 If you shut AYASpace down, the Geek just doesn't work right. Key functions like the mouse cursor or button shorts for the on-screen keyboard stop working, and those shortcuts are the key to the handheld's ability to function as a computer. Without a mouse and keyboard, they allow you perform basic tasks like pressing the Escape key to back out of menus. While it's technically possible to run the Ayaneo without AYASpace, I wouldn't recommend it. It's painful.
Forget your work laptop? The Ayaneo Geek has you covered.
One of the amazing things about the Ayaneo Geek is one of its most obvious: this is a genuine Windows gaming PC in a handheld form factor. There's no Linux. No compatibility layer like the Steam Deck's Proton. You can use all of the apps and tools you would normally use on your desktop or laptop with a fraction of the footprint.
And even though it's small, The Geek is mighty. The Ryzen 7 6800U is a very fast, very capable processor, and it's backed by 16GB of high-speed memory. The Geek has enough horsepower to run just about anything an enthusiast PC user could want: productivity apps, creative apps, websites and streaming services: the works. It's a high-performing little computer.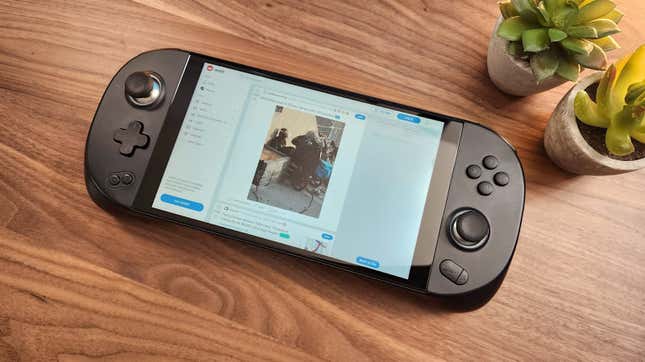 To actually use it in this way requires some add-ons, unless you want to hunt and peck your way through its onscreen keyboard and small screen. You'll need to buy peripherals, as well as a monitor if you don't already have one. Then you'll need a docking station to connect everything and power the device. But it's possible. With the Geek, I wrote multiple articles across Google Docs and Microsoft Word, edited photos and videos with Adobe, and even plugged in a USB mic to record some song ideas in Reaper, my digital audio workstation.
I also put it to the test with our suite of benchmarks. It scored 5,126 in PCMark 10, which is a solid 500 points higher than the HP Dragonfly Folio Elite we reviewed in January. In Geekbench 5, it scored 1,341 for single-core performance and 6,483 for multi-core, which falls short of many of the gaming laptops we've reviewed over the last year, and is middle of the pack for productivity PCs. But given its significantly more affordable price than many of those notebooks, the Geek's performance really is rather impressive.
For creative apps, the Geek maintains its middle of the road posture. In Cinebench, it scored 1,338 for single core rendering and 8,845 for multi-core, far exceeding the Dragonfly with all of its cores engaged but falling slightly short in single-core speeds. In Blender, the Geek rendered a BMW in four minutes and 29 seconds, putting it right in between the Apple MacBook Pro 13 and MacBook Pro 14. Without a dedicated graphics card like most gaming laptops have, its processor has to pull double-duty. It's not the fastest, but can certainly get the job done if you want to use it as a full-fledged PC.
Impressive gaming performance thanks to the AMD Ryzen 6800U
Where it really matters—gaming—the Ayaneo Geek excels. Like the Steam Deck, performance will depend on your graphics settings, resolution, and the current TDP setting for the CPU. It's a balancing act between battery life and CPU power, but once it's dialed in (or if you're playing plugged into wall power), it's more than a little impressive.
Even though it's cheaper, the Ayaneo Geek sacrifices nothing in performance compared to the flagship Ayaneo 2. It uses the same hardware to drive the experience, so with identical settings, in-game frame rates should be just about the same. Any scalebacks Ayaneo applied between the models are purely quality of life and don't impact gaming performance.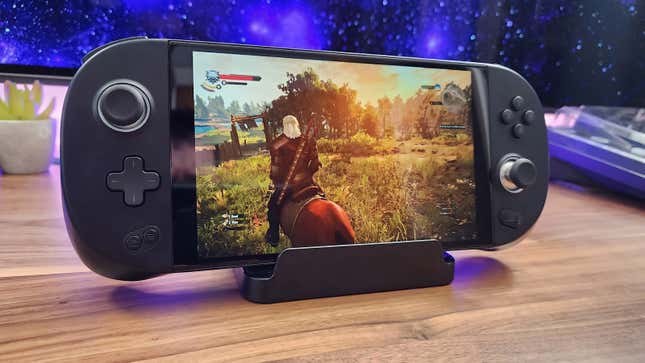 There are four different power modes to choose from: Power Saving (11W), Balance (15W), Game (22W), and Pro Mode (3W – 33W). Older games and indies can often be played at 11 watts and sometimes much less. Game mode is the best fit for modern games, though usually drops battery life to less than two hours in my testing. Balance mode strikes a middle ground between the two. With a little tweaking, I found that a number of indie games, like Super Meat Boy and Disco Elysium, could be played with as little as five to seven watts, which greatly enhances battery life. Interestingly, cranking up power settings to 33W doesn't usually offer the major performance increase you might expect. It usually gives you less than 10 extra FPS total and drops battery life to less than an hour, though if you're playing plugged into a wall outlet, it's definitely the way to go, for peak performance.
I tested a wide variety of games for this review and left the console in its Game preset to keep things standardized. I also set the games to 800p for consistent comparisons.
Forza 5 (High) – 71 FPS
God of War (Stock Settings) – 39 FPS
Cyberpunk 2077 (Steam Deck Preset) – 63 FPS
Borderlands 3 (Ultra) – 32 FPS
A Plague Tale (Low, FSR 2.0, Performance Mode) – 31 FPS
Rocket League (High) – 133 FPS
The Witcher 3 (High, FSR 2.0, Ultra Performance) – 43 FPS
Dirt 5 (Medium) – 56 FPS
Elden Ring (Low) – 51 FPS
Playing at 800p, the Ayaneo Geek allows you to turn up the settings on many new games while still maintaining average frame rates above 30 FPS. Some games, like Elden Ring, are best locked to low settings for the improved responsiveness of higher frame rates, but others, like Forza 5, have headroom to spare.
It's difficult to directly compare the Steam Deck's performance to the Ayaneo Geek's, as Valve's continuous updates and plenty of community support means it's always getting better. But in our original Steam Deck review, we "just barely breached the 30 fps threshold" in God of War. The AMD Ryzen 6800U is using a more recent processor generation than the Steam Deck's custom AMD APU, so in general, you're likely to see slightly improved performance across the board on the Geek.
While PC gaming handhelds used to demand that games be set to their lowest possible settings, that age is mostly behind us. The majority of games I tested were able to be pushed to medium or even high settings. Even when you have to turn things down (it's usually best to customize your settings and opt for a mix that looks best to you), elements like lower quality textures are less noticeable thanks to the smaller screen. Features like FidelityFX Super Resolution (FSR), AMD's method of upscaling images to improve performance, are also becoming more common and allow you to run even more graphically demanding games while still hitting playable frame rates. The Geek even has a built-in FSR option that can be used on many games that don't support it natively, though the results can vary from great to distractingly blurry.
I've mentioned it before, but it bears repeating again: the Geek is able to support any game that's currently available on Windows. There's no concern that games will or won't work like there is on the Steam Deck. There are few performance anomalies that pop up in the middle of games. The Dark Pictures Anthology: Man of Medan was unplayable on the Deck but perfect on the Geek. All of this means that you'll have a massive library of games to choose from on day one and instant compatibility for it in the future, as long as the Geek can physically run it. No waiting on Valve to certify games are playable or for developers to add support. It just works.
The Ayaneo Geek has variable battery life, loud fans, disappointing speakers
While the Geek is obviously a very capable gaming machine, its battery life is extremely inconsistent. If you've played a portable gaming PC before, you're already familiar with just how variable battery life can be. The 50.25 wHr battery could last four hours or 40 minutes depending on your current TDP setting and how demanding the game you're playing is.
The fan can also get quite loud. If you play on the 22-watt gaming preset, the Geek's fan can be distractingly noisy. It produces as much noise as a typical gaming laptop, though stops short of "jet engine" status. But since you hold the Geek closer to your face and ears, its noise is more noticeable during use. Running it in Balance or Power Saving modes quiets it down, but at a noticeable decrease in performance in demanding games.
The fan will have you reaching for headphones, but you may be doing that anyway thanks to the Geek's disappointing speakers. They get loud enough to hear well, but movies and game audio lack body and sound thin. They'll work in a pinch, but just like a laptop, I wouldn't recommend using them if you have a pair of headphones handy.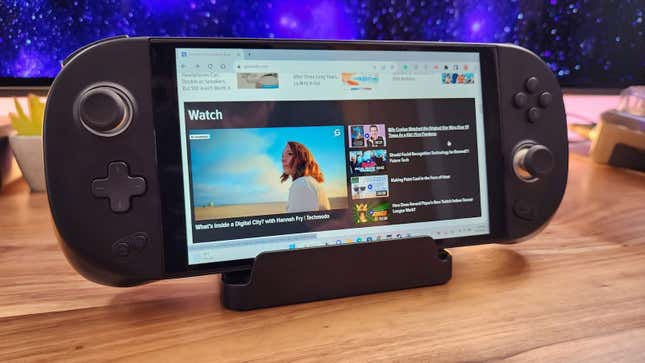 Should you buy the Ayaneo Geek?
The Ayaneo Geek is an impressive handheld gaming PC, especially when compared against the Ayaneo 2 and the Steam Deck. While Ayaneo has scaled back certain features to hit the Geek's price, its gaming performance hasn't suffered at all. It's a top-tier handheld that seems bound to impress. If you can afford it. And that's the rub: even though the Ayaneo Geek has a lot to offer for a lot less than most of Ayaneo's devices, for that same $849, you could buy two Steam Decks and have money left over for games.
That doesn't mean the Ayaneo Geek isn't worth considering. It's smaller and more comfortable to use. It's more powerful and performs better in games. Most importantly, it runs on Windows instead of Linux, so any game or app that runs on Windows should work fine without any extra tweaks necessary (you can run Windows on the Steam Deck, but it takes a bit of work and doesn't always net great results). Connect it to a docking station and monitor and it can become a genuine, full-featured computer. Because of that, it's more fitting to consider the Geek like it's a uniquely designed gaming laptop rather than a simple game console, and in that light, $849 can actually start to look rather reasonable.
Whether the Ayaneo Geek makes sense for you depends entirely on how you plan to use it and just how much you value its comfort, optional upsells like that 1200p screen, and pure gaming horsepower. It also depends on how much you're willing to deal with some small company jank, as AYAspace is more likely to break than SteamOS. But it's one of the best options for getting just a bit more than the highest end Steam Deck will get you while not spending more than a couple hundred dollars extra.
Services Marketplace – Listings, Bookings & Reviews