Looking for the best drone you can buy right now? Whether you're searching for your first flying camera or a pro-quality model to take your filmmaking to new heights, we've rounded up the best drones in the world right now, based on our extensive testing.
We've reviewed all of the latest drones from the likes of DJI, Parrot and PowerVision, and ranked them based on their image and video quality, flying features and value for money. So whatever kind of drone you're looking for, you'll find the right one for you in this guide.
Why buy a drone? Far more than just remote control toys, drones have advanced hugely in recent years, both in terms of their automated flying modes and image quality. They're now a fantastic way to bring a new perspective on your photography or videos, and many now pack excellent 4K powers into a bundle that folds down neatly into a backpack.
Right now, we think the best drone for most people is the DJI Mavic Air 2. An all-rounder that combines impressive image quality, beginner-friendly flying modes and a compact form factor, it's a brilliant option for taking on your travels to shoot spectacular scenery.
That said, if you're looking for something more affordable that doesn't need registering with your local aviation authority (due to its light weight), then the DJI Mavic Mini is our pick as the best drone for beginners.
While DJI is unquestionably the current leader for drone tech, there are alternatives like the waterproof Powervision PowerEgg X if you need a particular tool for an aerial filmmaking job, so we've included those in our guide, too. Whatever you're looking for, here are the best drones you can buy right now.
What about Amazon Prime Day and Black Friday 2020?
If you're looking to buy a drone, you may be able to save some money by waiting for one of the sales events that are kicking off in the next few months. The first is Amazon Prime Day 2020, which is expected to take place in mid-October (although the exact date is still to be confirmed), and could offer some impressive drone deals.
If you want even more choice when it comes to retailers and discounts, then you could wait for Black Friday and Cyber Monday. For example, last year DJI offered a 20% discount on some drones including the DJI Mavic 2 Pro, while retailers offered even bigger savings on older drones like the DJI Mavic Pro Platinum. Black Friday and Cyber Monday officially start on November 27, but look out for the best cheap drone deals starting to roll in from the beginning of November.

The best drone 2020 at a glance:
DJI Mavic Air 2
DJI Mavic 2 Pro
DJI Mavic Mini
DJI Mavic 2 Zoom
Powervision PowerEgg X
DJI Phantom 4
Parrot Anafi
Parrot Bebop 2
DJI Mavic Pro
DJI Inspire 2

The best drone 2020: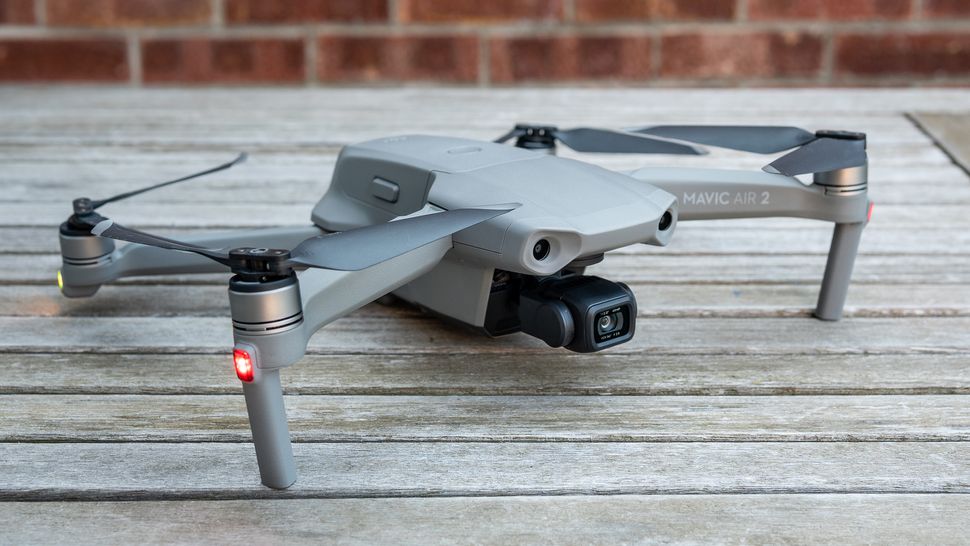 A dramatic improvement on the original Mavic Air, the Mavic Air 2 is the best all-rounder drone for beginners and hobbyists. Like a mini version of the Mavic 2 Pro, it combines the ability to shoot excellent 4K/60p video, a huge range of shooting features, and an impressive 34-minute flight time. A new 1/2-inch sensor ensures better ISO performance than its predecessor and supports slo-mo 1080p video up to 240fps. The Mavic Air 2's new controller, meanwhile, brings Ocusync 2.0 connectivity, which boosts its range up to 10km and improves the stability of its signal to the DJI Fly app. With subject-tracking and all of the familiar Quickshot automated modes, it's the perfect sweet spot between the more basic DJI Mavic Mini and pricier Mavic 2 series.
Read our in-depth DJI Mavic Air 2 review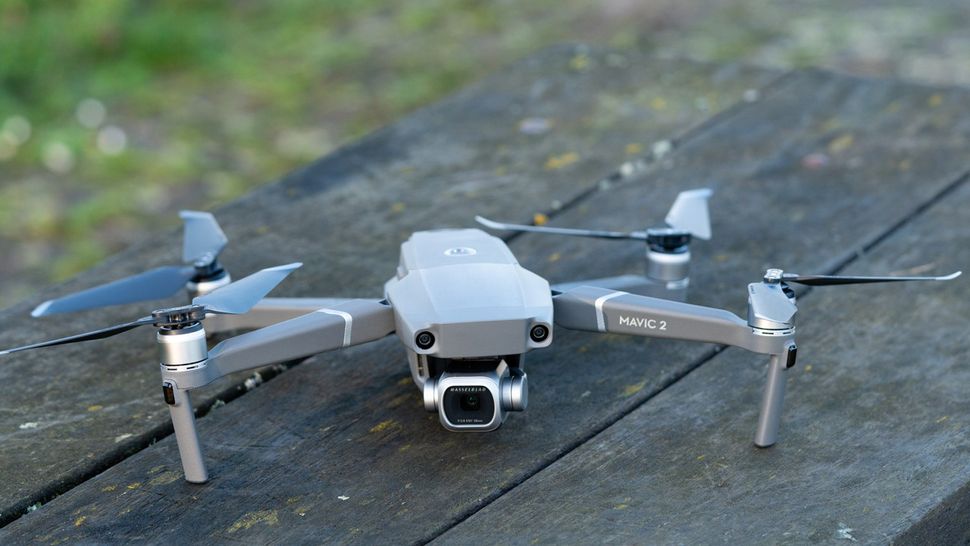 The DJI Mavic 2 Pro remains the best premium drone you can buy for a few reasons – it has a large sensor, is a joy to fly, and the foldable design makes it portable and travel-friendly. If you need zoom or serious portability, then the Mavic 2 Zoom and Mavic Mini are worth investigating. But otherwise, this is a fine all-rounder for those who need a bit more quality than the Mavic Air 2. Its 20MP one-inch sensor is capable of shooting Raw stills and 4K video at 30fps, while the aperture is adjustable between f/2.8 and f/11, which means less need for ND filters. What's more, despite its impressive skill set, the Mavic 2 Pro is easy to fly and intuitive to control using its partner app, while a range of intelligent shooting and flight modes make capturing cinematic shots a cinch. It also offers some of the most advanced flight and camera tech currently available, making it capable of delivering pro-grade images, yet still accessible even for beginners. Provided you don't need optical zoom, this is pretty much the perfect drone for most people, if you can afford it.
Read our in-depth DJI Mavic 2 Pro review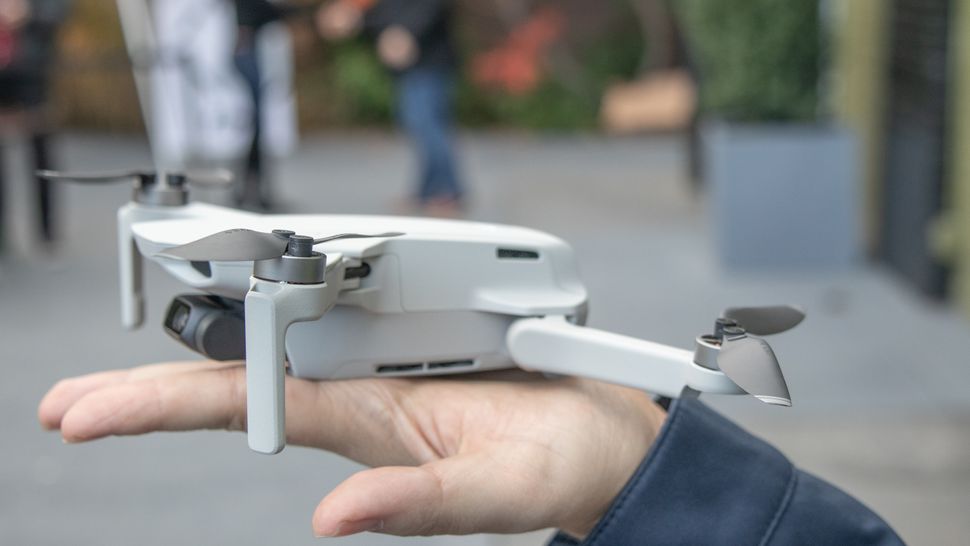 The DJI Mavic Mini is a perfectly timed masterstroke on DJI's part. It tackles drone law changes across the US and UK head-on, while also delivering great video quality in a premium, compact body.
Laws now state that drones weighing over 250g need to be registered with aviation authorities – the FAA in the US and Civil Aviation Authority in the UK – and before the Mavic Mini launched, there weren't any well-reviewed options in this featherweight category. Which means that, right now, DJI has secured itself a monopoly in the sub-250g premium drone market because, unlike one of its main rivals, the Parrot Anafi, that weighs around 300g, the Mavic Mini doesn't need to be registered.
It isn't quite our dream drone as the absence of 4K, or 2.6K 60fps video recording is felt, but the DJI Mavic Mini is still in a league of its own, pairing a compact, light body with a robust flying experience and decent-quality video capture.
Read our in-depth DJI Mavic Mini review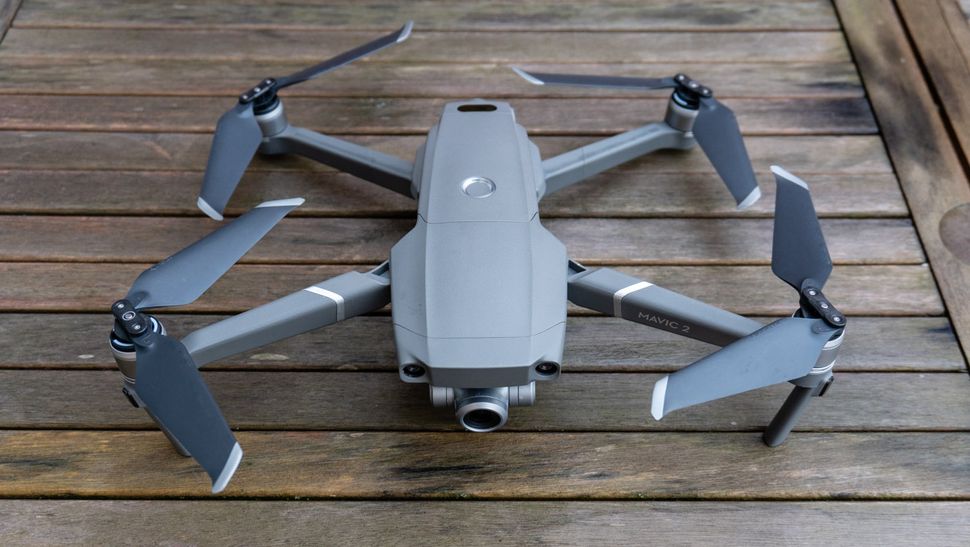 The DJI Mavic 2 Zoom is largely identical to the Mavic 2 Pro, apart from one crucial difference – its camera system. While both drones are incredibly portable, sharing the same lightweight foldable design, and offer a range of high-spec features, the Zoom pairs a smaller 12MP sensor with an 24-48mm optical zoom lens. That means you can capture close-up shots of subjects like people, while still maintaining the safe and legal distance of 50m. Because of the smaller sensor, image quality doesn't quite match the Mavic 2 Pro and the f/2.8 aperture is fixed, but photos and videos are still more than good enough for professional use. The real boon is that zoom lens, which unlocks a world of creative shooting potential. Range is good, distortion minimal and control is intuitive via the partner app. On top of that, you get all of the intelligent flight modes you'd expect from a DJI drone, including Active Track and Hyperlapse, as well as a decent 30-minute flight time. If you want a drone with zoom, this is the one for you.
Read our in-depth DJI Mavic 2 Zoom review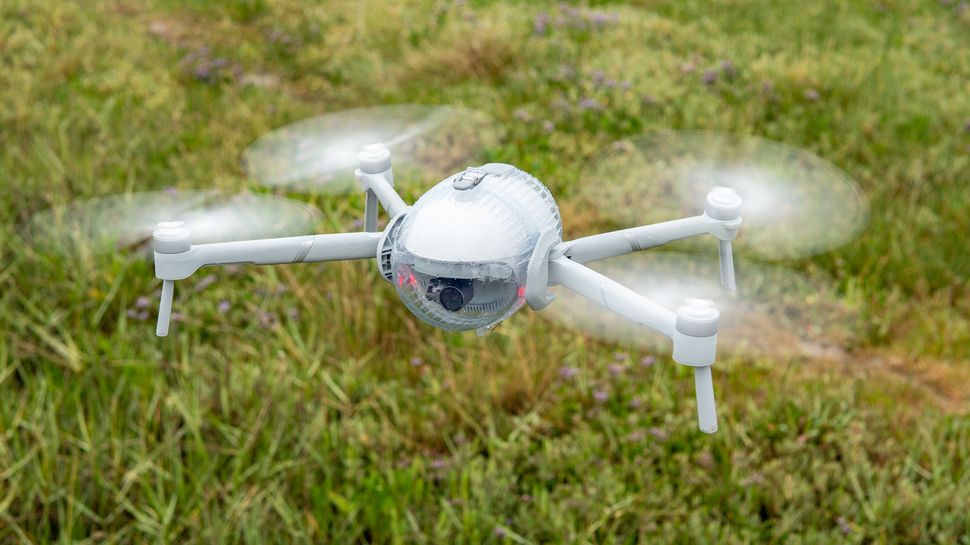 Ignore the culinary name: the PowerEgg X is a flyer, not a fryer. And in a market dominated by drones that don't like water, PowerVision's aerial orb is distinctive in its ability to fly in the rain and land on lakes (with the Wizard bundle). Image quality is affected by the plastic waterproof housing, but being able to operate in – and float upon – the wet stuff opens up a range of creative possibilities.
So, too, does the versatile modular design. The PowerEgg X can also be deployed as a handheld gimbal camera and an autonomous AI camera, which can be mounted to a tripod and controlled with hand-gestures.
The flip-side of the adaptable setup is that it's slower to deploy. It might be lightweight, but removing the protective casing from the body, adding the propeller arms and setting up the controller takes a few minutes.
Image quality isn't class-leading, either. The PowerEgg X does produce decent, detailed 4K footage in bright conditions, but the fixed aperture, fixed-focus 12MP 1/2.8-inch CMOS sensor can't compete with DJI's Mavic drones. It's also not currently possible to record in Raw video formats.
Still, for short, sharp video sequences in bad weather, the PowerEgg X is one of the best options around.

A refinement of the DJI Phantom 3 Professional from 2015, the Phantom 4 has a more sturdy construction, impressive object-avoidance technology and – like so many of DJI's offerings – an excellent dedicated remote control which connects to an equally feature-rich smartphone app.
It's now no longer in production and in we're in the middle of testing DJI's latest Phantom model, the Phantom 4 Pro V2.0. But if you can find stock or a second-hand version, it's still worth considering, particularly if you often fly in windy conditions and need a more affordable option than the Inspire 1 V2.0.
4K video recording is supported, and the gimbal design means you get rock-steady footage even when the drone is moving at speed and changing direction. The biggest downer – and you'll notice this is a common complaint with many older drones – is battery life, which is only around 15 to 20 minutes. That's a little behind the 30-minute standard now offered by more current drones.
While it's not quite in the same league as DJI's Inspire series, the Phantom 4 offers a similar degree of performance and functionality for a lower price, making it a good option for budding aerial photographers rather than experienced professionals.
Read our in-depth DJI Phantom 4 review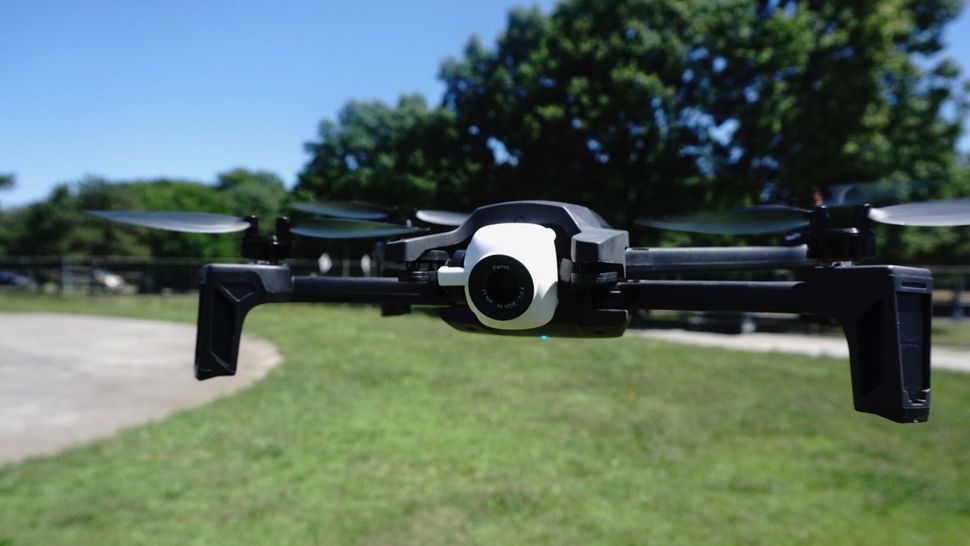 This lightweight, bug-like drone might be small, but its photography chops are among the most impressive around.
Its camera has 180 degrees of vertical range, which enables it to take photos directly upwards – a feat no other drone can match. It also has a 2.8x zoomable lens with no image quality reduction.
The Parrot Anafi is a particularly good choice for selfie fans. Its Follow Me mode tracks your movements, adjusting automatically for more photogenic angles, and its SmartDronies modes – Orbit, Parabola, Boomerang and Tornado – cause the drone to fly around you in various circles and arcs.
The main drawback is the Parrot Anafi's lack of obstacle avoidance, which makes it hard to recommend to new users. It's also a shame that a couple of flight modes are locked away as extra in-app purchases after you've paid for the drone.
Read our in-depth Parrot Anafi review

The Bebop 2 is a mid-range offering which won't break the bank yet offers a surprising amount of features for the price. The camera utilises a fisheye lens, and stabilization software removes the need for a gimbal; combined with the intelligent construction of the chassis, which uses rubber dampeners to reduce vibration in-flight, this results in video footage that's refreshingly judder-free.
If you're feeling especially flush you can take the Bebop 2 to the next level by purchasing the optional flight controller and FPV headset. The former connects to your smartphone and offers proper flight controls, while the latter uses your phone's screen to present a first-person view of what the Bebop 2 is actually seeing. It's initially quite jarring to fly the device in this fashion, but after a while you'll wish all drones came with such an accessory.
On the downside, Parrot has locked away some of the Bebop 2's more interesting features, such as route planning and 'follow me' functionality, behind a paywall, which means the cost increases further if you want to use these. Battery life is also somewhat disappointing, so it may be worth investing in a spare power cell.
Read our in-depth Parrot Bebop 2 review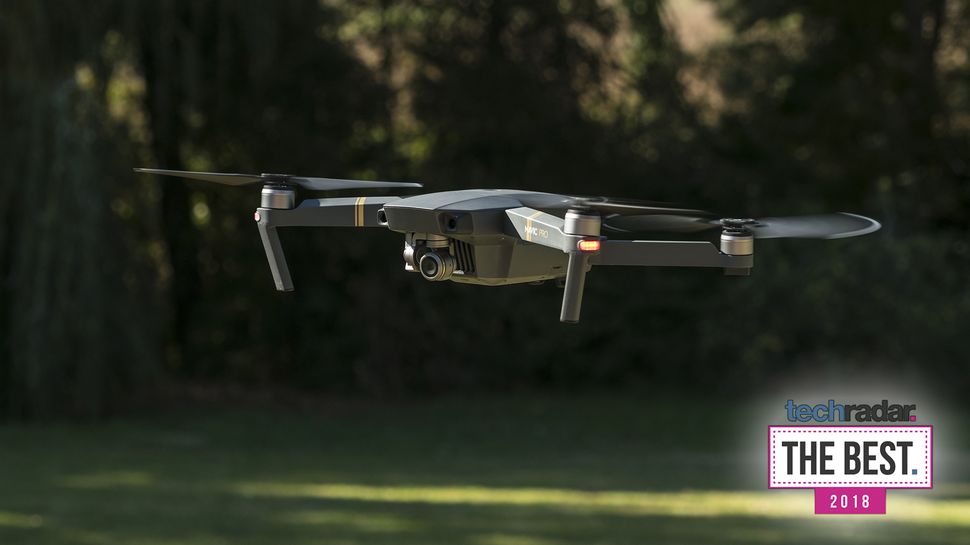 It's now been superseded by the DJI Mavic 2 Pro (see above), but this is still one of the best consumer drones around – and now it's more affordable too. Until the DJI Spark came along, the Mavic Pro was the smallest drone in DJI's lineup. Don't let its diminutive size fool you though – this pint-sized flyer boasts the kind of performance that DJI's larger drones are famous for.
The camera is mounted on a gimbal, which is unusual for drones of this size. It delivers fantastic results with both photos and video in good lighting, although the small size of the sensor means low-light shooting can sometimes be tricky. The Mavic Pro has a top speed of around 40 mph, so it's no slouch in that department, and the battery is good for around 20 to 25 minutes of aerial action.
As is the case with other DJI drones, the Mavic Pro comes with a dedicated remote control that uses your phone's display to show you exactly what the device is seeing. Range is quoted as being over four miles, giving you the opportunity to capture some amazing stills and video without worrying about the connection dropping.
Read our DJI Mavic Pro review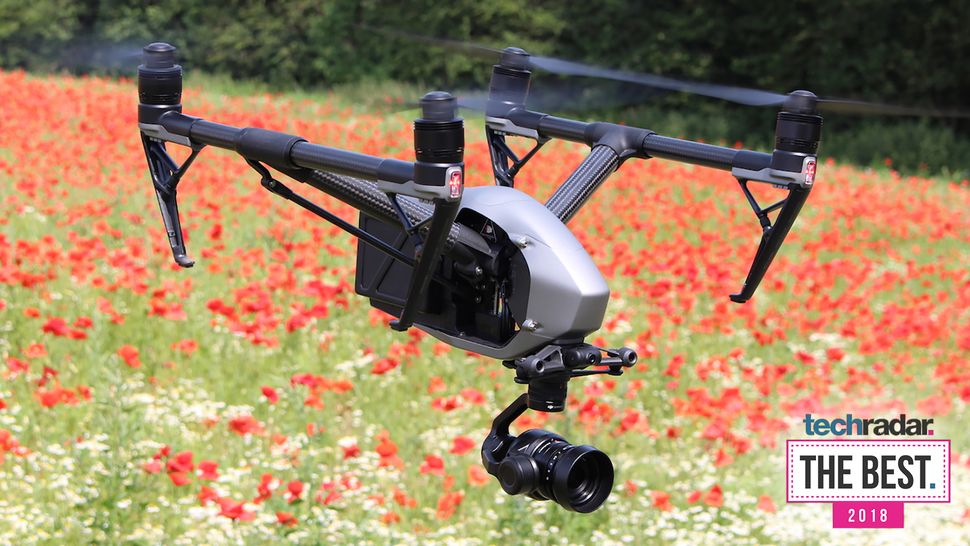 Soundly knocking its predecessor out of this list is the highly impressive Inspire 2. With a sleek metal composite bodywork upgrade, it's a much more attractive piece of kit. What's more, with more advanced object avoidance technology you don't have to worry about that beautiful body getting scratched by you accidentally clipping a tree.
You get more than 25 minutes of flight time out of the twin-battery arrangement, and the ability to swap camera lenses means that professional photographers and videographers have complete control over their images and 5K video.
The fully-featured smartphone app and dedicated remote control make this drone incredibly easy to control, but make no mistake, this is a professional piece of kit.
Read our in-depth DJI Inspire 2 review