As the number of shows and movies available to stream in Australia continues to grow at an impressive rate, it can be tough to keep up with all the new additions to each streaming service each month.
We've all come to anticipate a new stable of Netflix Originals releases each month, but figuring out which shows they are and when exactly they become available isn't so easy. And what about the large number licensed shows and films that are made available to stream, if only for a limited time?
In an effort to keep you informed of the best shows and movies that are in the process of being added to Netflix, we'll be bringing you an updated list of what you can expect on the service on a monthly basis.
Not only that, we'll also be singling out the biggest releases, as well as a number of quality TV shows and films which we believe deserve your Netflixing time.
A fairly decent month in terms of Originals, Netflix has a number of great new TV shows, specials and movies on offer – here's what's new on Netflix in July 2020. Check out Netflix's newest offerings below!
TV shows highlights for July 2020
Cursed (17/7/2020)
From creators Frank Miller (300, Sin City) and Tom Wheeler (The Cape), and Cursed is a re-imagination of the Arthurian legend, told through the eyes of Nimue (Australia's own Katherine Langford), a young woman with a mysterious gift who is destined to become the Lady of the Lake, the powerful being known for leading Arthur (Devon Terrell) to both Merlin (Gustaf Skarsgård) and the ancient sword Excalibur. Expect more than a few twists and turns in this violent and gritty retelling of the classic story.
Warrior Nun (2/7/2020)
In this new Netflix Original series, an young woman (Alba Baptista) wakes up in a morgue with a divine artefact in her back. It turns out that this marking means she now possesses superpowers and is the chosen Halo-Bearer for a secret sect of ass-kicking nuns who are tasked with the hunting on demons. Sounds pretty awesome to us!
The Umbrella Academy: Season 2 (31/7/2020)
In the first season of this fan-favourite Netflix Original series, a fractured family of former child heroes known as the Hargreeves (which includes the likes of Ellen Page and Robert Sheehan) were forced to reunite in order to save the world from an upcoming global apocalypse and solve the mystery surrounding their father's death. Little is known about season 2, other than the Hargreeves family is back and ready to take on a new challenge.
Unsolved Mysteries (1/7/2020)
True crime obsessives rejoice! The iconic '90s series Unsolved Mysteries is back with 12 new cold cases. Just like the original series, this reboot sees baffling real-life cases presented with character-driven storytelling which asks the audience to help find the missing pieces that are keeping each mystery unsolved. Once again, clues and theories are offered by the detectives, journalists and family members who have lived with the unexplained disappearances and murders of loved ones.
Movie highlights for July 2020
The Old Guard (10/7/2020)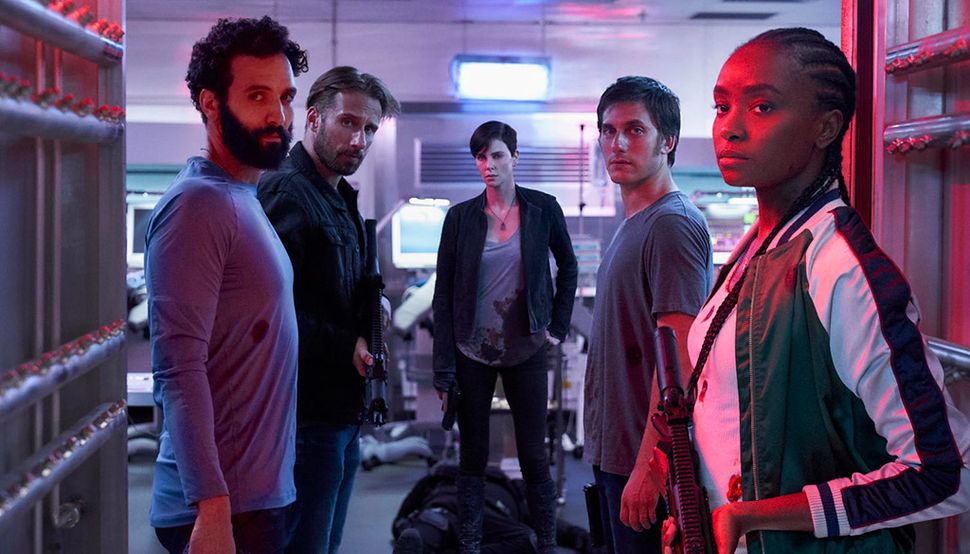 Be honest: is there anything better than Charlize Theron (Atomic Blonde, Mad Max Fury Road) in full ass-kicking mode? In the new Netflix Original film The Old Guard, we get just that, as Theron plays a warrior named Andy who leads a covert group of immortal mercenaries who have fought to protect the rest of us mortals for centuries. Based on the graphic novel by Greg Rucka, The Old Guard promises to kick serious butt and give the similarly-themed Bloodshot a run for its money.
…and the rest for July 2020
ORIGINAL SERIES
Deadwind: Season 2 (1/7/2020)
Say I Do (1/7/2020)
Cable Girls: Final Season: Part 2 (3/7/2020)
JU-ON: Origins (3/7/2020)
Southern Survival (3/7/2020)
Was It Love? (8/7/2020)
The Protector: Season 4 (9/7/2020)
O Crush Perfeito (10/7/2020)
The Twelve (10/7/2020)
Dark Desire (15/7/2020)
Skin Decision: Before and After (15/7/2020)
Indian Matchmaking (16/7/2020)
Boca a Boca (17/7/2020)
How to Sell Drugs Online (Fast): Season 2 (21/7/2020)
Signs (22/7/2020)
Norsemen: Season 3 (22/7/2020)
¡A cantar! (24/7/2020)
Good Girls: Season 3 (26/7/2020)
Inside the World's Toughest Prisons: Season 4 (29/7/2020)
Get Even (31/7/2020)
Vis a vis: El Oasis (31/7/2020)
NETFLIX FILM
Under the Riccione Sun (1/7/2020)
Desperados (3/7/2020)
Gli Infedeli (15/7/2020)
Fatal Affair (16/7/2020)
MILF (FR) (16/7/2020)
Animal Crackers (24/7/2020)
Ofrenda a la tormenta (24/7/2020)
The Kissing Booth 2 (24/7/2020)
The Hater (29/7/2020)
Seriously Single (31/7/2020)
ORIGINAL COMEDY
Thiago Ventura: POKAS(2/7/2020)
Urzila Carlson: Overqualified Loser (14/7/2020)
Jack Whitehall: I'm Only Joking (21/7/2020)
ORIGINAL DOCUMENTARY
Mucho Mucho Amor: The Legend of Walter Mercado (8/7/2020)
The Claudia Kishi Club (10/7/2020)
On est ensemble (14/7/2020)
The Business of Drugs: Limited Series (14/7/2020)
Fear City: New York vs The Mafia (22/7/2020)
Street Food: Latin America (21/7/2020)
Last Chance U: Laney (28/7/2020)
The Speed Cubers (29/7/2020)
The Speed Cubers (29/7/2020)
ARASHI's Diary -Voyage- ep 10 (Coming Soon)
KIDS & FAMILY
Chico Bon Bon: Monkey with a Tool Belt: Season 2 (1/7/2020)
The Baby-Sitters Club (3/7/2020)
Hello Ninja: Season 3 (10/7/2020)
The Epic Tales of Captain Underpants in Space (10/7/2020)
Ashley Garcia: Genius in Love (20/7/2020)
The Larva Island Movie (23/7/2020)
Dragons: Rescue Riders: Secrets of the Songwing (24/7/2020)
Latte and the Magic Waterstone (31/7/2020)
ORIGINAL ANIME
Japan Sinks: 2020 (9/7/2020)
Transformers: War For Cybertron Trilogy (30/7/2020)
OTHER HIGHLIGHTS
Eat Pray Love (1/7/2020)
Top End Wedding (1/7/2020)
Gladiator (1/7/2020)
Grease (1/7/2020)
A Knight's Tale (1/7/2020)
Pitch Perfect (1/7/2020)
Billy Madison (1/7/2020)
The 40-Year-Old Virgin (1/7/2020)
Back to the Future Part II (1/7/2020)
Men in Black (1/7/2020)
Men in Black II (1/7/2020)
Identity Thief (1/7/2020)
The Last Airbender (1/7/2020)
Wrecked (1/7/2020)
Berlin Syndrome (1/7/2020)
The Zookeeper's Wife (1/7/2020)
The F**k-It List (2/7/2020)
The Blacklist: Season 7 (6/7/2020, 13/7/2020, 20/7/2020)
The Hurricane Heist (11/7/2020)
Little Italy (13/7/2020)
Mrs. Lowry & Son (14/7/2020)
The Beach Bum (15/7/2020)
Executive Decision (15/7/2020)
Passenger 57 (15/7/2020)
Dr. Seuss' The Grinch (20/7/2020)
What's coming next month and beyond?
Netflix has has big plans for 2020, with a number of high-profile shows and movies confirmed for release on the service. Keep coming back to this page each month to find out when they'll be available to stream!