As much as we love 8BitDo's wireless controllers and gamepads, including the highly customizable 8BitDo Pro 2, our biggest complaint with them to date has been a lack of support for Apple devices. But as of today, that changes, as a new software update for many of 8BitDo's wireless controllers finally makes them compatible with iPhones, iPads, Macs, and even Apple TV.
Previously, all of 8BitDo's wireless controllers and gamepads were only compatible with PCs, Android devices, and the Nintendo Switch. Even the 8BitDo Ultimate Controller, a wireless update to the company's Ultimate Wired Controller for the Xbox Series S & X, only worked with PC, the Nintendo Switch and Android mobile devices, which was unfortunate as it quickly became one of our favorite third-party controller options.
And while Apple might not be an industry leader when it comes to AAA gaming, the company is finally making a more concerted effort to embrace gaming on its various devices. The Apple Arcade subscription service features many titles akin to what you'll find on other platforms like the Switch, and Apple added official support for Xbox and PlayStation wireless controllers through software updates to its various devices a few years ago. 8BitDo finally adding Apple support to its controllers feels a little late to the game, but it's definitely a case of being better late than never.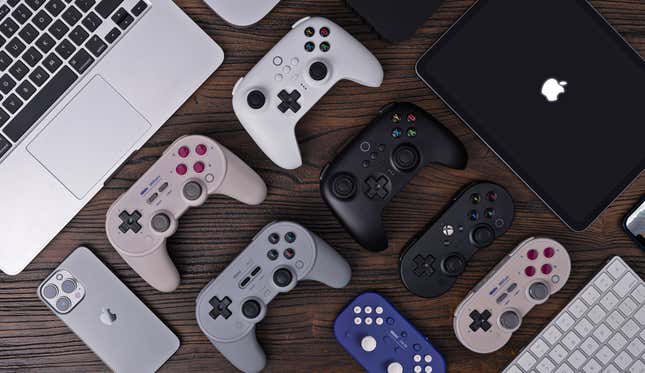 Starting today, six of 8Bitdo's wireless controllers will be compatible with Apple devices running iOS 16.3+, iPadOS 16.3+, tvOS 16.3+, and macOS 13.2. That includes the 8BitDo Pro, the 8BitDo Pro 2, the 8BitDo SN30 Pro+, the SNES-inspired 8BitDo SN30 Pro for Android, the highly-accessible 8Bitdo Lite SE, and the Xbox-inspired 8BitDo Ultimate Controller—with Apple support being added to other 8BitDo controllers later on.
The update process should be rather painless, as it simple uses the 8BitDo upgrade tool available for Windows PCs and Macs, but there are some limitations to the newly added Apple support. According to 8BitDo's website, "Rumble and motion control features are not supported for Apple devices for the moment." And while you can physically connect the supported 8BitDo controllers to Apple devices for lag-free gameplay, that's only an option for iPads and Macs, given a USB-C port is required (unless you're living that dongle life). We'll keep our fingers crossed that the rumors are true and that the next iPhone will finally swap a Lightning port for USB-C.
Services Marketplace – Listings, Bookings & Reviews