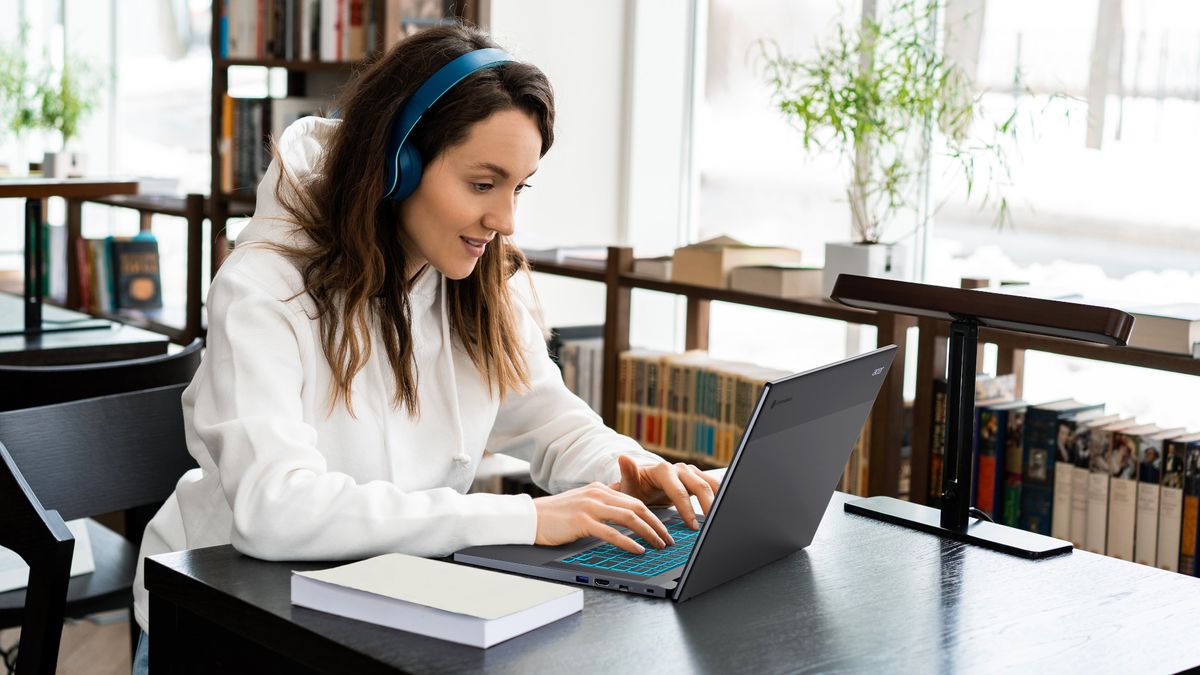 'Chromebooks aren't for gaming!' So goes the eternal refrain of tech journalists like myself when asked (for the millionth time) what laptop a family member should buy for their games-obsessed kid.
But that could finally be about to change! Google has been pushing the notion of 'gaming Chromebooks' for a while now, and I've been thoroughly unconvinced. These Chrome-powered laptops, like the otherwise pretty solid Acer Chromebook 516 GE, don't actually run games locally, instead relying on cloud-based game-streaming platforms such as GeForce Now and Xbox Game Pass.
Don't get me wrong, I like Google's affordable laptop brand – I'm writing this very article on one of the best Chromebooks – but cloud gaming is still in its infancy, inaccessible for many due to subscription fees and high internet speed requirements. That's why Google's latest scheme intrigues me: a plan to bring Nvidia's power RTX graphics cards to a pair of new Chromebooks.
RTX on
Let's not get carried away – we're not going to be seeing a Chromebook packing the mighty flagship RTX 4090 anytime soon (probably never, in fact).
Instead, as reported by 9to5Google, it looks like Google has an internal prototype codenamed 'Hades', that will come with the more affordable (and technically as-of-yet-unannounced) RTX 4050 and a 13th-generation Intel CPU with DDR5 memory. More specifically, the Chromium Gerrit code repository details two different Chromebooks codenamed 'Cora' and 'Zeus' – though which laptop manufacturer is actually making these is anyone's guess.
Gaming on Chromebooks has been a long-term goal for Google, with the search engine giant implementing Play Store support and working with Valve to get the popular PC gaming platform Steam up and running on Chrome OS.
Without a dedicated GPU, though, gaming performance has been limited at best. Although I've championed the potential of gaming on integrated graphics in the past, and there's no denying the impressive power of AMD's new Z1 APU (as seen recently in the Asus ROG Ally gaming handheld), the fact is that integrated GPUs just aren't up to scratch compared to the discrete graphics cards found in the best gaming laptops.
The RTX 4050 likely won't be one of the best graphics cards around, but it should be perfectly capable of running all the best PC games natively – at 1080p at least, which is fine since most Chromebooks don't have high-resolution displays. Even for more premium Chromebooks, Nvidia's latest generation of GPUs can make use of the nifty DLSS 3 upscaling tech for better performance at QHD and above.
All Chromed up
It's been a bit of a tough year for Nvidia so far, and criticism has been rampant about the high price of Team Green's more powerful cards. With Intel's Arc GPUs rapidly improving and AMD stepping into the handheld gaming space, it's good to see Nvidia taking steps to make gaming more accessible via its own GPUs.
Putting RTX cards in Chromebooks is a big step forward for Nvidia, and it looks like Google is taking the partnership very seriously too. Several new features have been spotted via the Chromium database, all of which should help turn 'Cora' and 'Zeus' into more competent gaming machines.
They'll be equipped with newer, faster DDR5 RAM – which, notably, appears to be unsoldered, a rarity among Chromebooks. This means you'll be able to upgrade your RAM simply by opening up the chassis – a useful feature for a gaming laptop as RAM requirements for games keep climbing.
On top of this, there are two new power-related features designed with gaming in mind. The first is upgraded power range support (up to 240W) on at least one USB-C port, and the second is a clever way for the Chromebook to run directly off mains power when plugged in, 'bypassing' the battery entirely to improve thermal performance and preserve your battery's health.
It all sounds very promising, although I have to question exactly who these are aimed at, just as I did back when the original 'gaming Chromebooks' arrived. Historically, Chromebooks have been lightweight, affordable laptops targeting younger (or simply less tech-savvy) users. While kids might love to game, the stats show that they favor phones and consoles over PCs – and they're typically not the ones making the buying decisions when it comes to laptops, either.
At the end of the day, as much as I like the idea of my favorite Chromebook (the awesomely modular Framework Laptop Chromebook Edition) getting boosted with better gaming capabilities, I'm not entirely sure who – other than me, of course – would buy it.
Services Marketplace – Listings, Bookings & Reviews