Best Tech Deals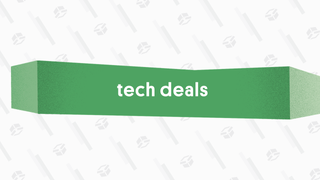 Best Tech Deals
The best tech deals from around the web, updated daily.
Featured Deal: AirPods Pro | $199 | Amazon
The best Apple deals and discounts of October 2020 are here.
If you're an Apple fan, then you know that the company's popular iPhones, iPads, MacBooks, Apple Watch, and AirPods don't come cheap … and sales can be sporadic. Luckily, we watch Apple bargains like a hawk here at The Inventory and Kinja Deals, always keeping an eye out for the best deals on across the Cupertino ecosystem. Scope out low prices on AirPods Pro, the MacBook Air, and Apple Watches below, and stay tuned: we'll be updating this roundup regularly.
The premium AirPods Pro are now $50 off the list price at Amazon. It's a stellar discount on some excellent wireless earbuds. These ones come with noise canceling smarts, silicone tips to improve comfort, and also a case that can be wirelessly charged.
G/O Media may get a commission
The new Apple Watch SE is the best option for most prospective buyers, carrying the most important core features of the pricier Apple Watch Series 6 with just a smidge less power and a $120 savings.
Right now, you can get the Apple Watch SE for even less at Amazon, where both the 40mm and 44mm sizes are marked down $10 with the sport band included. As of this latest update, only the Gold 40mm and Black 44mm models are still discounted, but that could change.
Need a new, basic iPad for everyday tasks? Apple's recently-refreshed 10.2-inch core iPad is already discounted at Amazon. You'll save $30 off of the 32GB base model, just weeks after release. It looks the same as the previous model and doesn't make a lot of changes otherwise, but it has a faster A12 Bionic chip inside to ensure that you're ready for all kinds of games, apps, and media.
True, it's only a $15 discount, but we're surprised to see any sale at all on the just-released Apple Watch Series 6. Both sizes of the base model Series 6 are discounted right now across some of the colors (check on Amazon to be sure), and both provide a faster processor along with a blood oxygen sensor and other health-centric upgrades.
Snap one one of Apple's powerful 13-inch MacBook Pro laptops for $200 less than normal at Amazon right now. This is a higher-capacity model with a 1TB SSD alongside the Intel Core i5 (2.0Ghz) processor and 16GB, giving you a lot of portable power to play with. Note that $49 of the savings comes off at checkout and isn't reflected in the price on the Amazon listing.
The iPhone 12 is expected to be announced this week, but if you need a new phone right now and don't mind going refurbished, this is a solid deal on the current iPhone 11.
Amazon's unlocked iPhone 11 starts at $580 renewed, more than $100 off the new price point, although that price shifts slightly based on which color you choose. Bump up to additional storage for a little extra cash.
If you prefer a tinier tablet, Amazon is offering extra savings on the iPad Mini right now. As of this writing, it's marked down to $336, a savings of $63 off of the regular price. Only the Space Gray model is discounted as of this writing, and you'll get a 7.9″ Retina display, an A12 Bionic processor, a solid 64GB storage, and support for the Apple Pencil stylus.
Don't want to go Pro? Apple's standard current-model AirPods are also discounted at Amazon, and are marked down $30 right now for the standard edition. These buds are super-handy allies for any jaunt, large or small, and the case can be recharged with the included cable. A version with a wirelessly rechargeable case is available for $160 (that's $39 off).
Save $49 off the list price of Apple's thin current-gen MacBook Air laptop right now. You can grab it at this price in Space Gray, Silver, or Rose Gold, each coming with a 10th-generation Intel Core i3 processor, 8GB RAM, 256GB storage, and a 13.3" high-res Retina display.
This is a stellar deal for an everyday laptop, assuming you don't need the high-end computing power of a pricier MacBook Pro. Note that $100 of the discount comes at checkout and isn't reflected in the listing price. The pricier model with a 512GB SSD is also $149 off right now (full savings at checkout).
New Apple Watches are out, whether it's the Series 6 or budget-friendlier Apple Watch SE, but both are much more expensive than this Apple Watch Series 3 at Amazon. It's not the fastest or more perk-packed edition, but it's still a solid wearable to pair with your iPhone for fitness tracking, notifications, and more. It's just $169 for the 38mm model.
Save $100 off the active noise-canceling wireless Beats Solo Pro headphones right now at Amazon in a a couple of colors. They pair easily with iOS devices thanks to Apple's H1 chip and promise a stellar 22 hours of battery life on a full charge. The light and navy blue colors are still available as of this writing.
It's not a huge savings, but it is an uncommon one: right now you can save $50 off the price of Apple's largest current-gen iPad, the iPad Pro 12.9". With a massive ProMotion screen, serious speed onboard, and even a LIDAR camera, it's the most perk-packed tablet in Apple's stable.
And if you want Apple's pricey Magic Keyboard for this model, it's also $20 off at Amazon.
If you're on the hunt for a large, semi-recent iPhone that you can take to any network, this iPhone XR deal might be up your alley. It has a sizable 6.1" screen, is available in a handful of eye-catching colors, and the A12 Bionic processor is still plenty speedy compared to the top-end competition of today. It's more than $300 off the original new list price when you buy this certified renewed version from Amazon, which is unlocked. The price varies slightly based on which color you choose.
Apple's biggest current MacBook Pro model is a wallet-buster, as you might expect, but at least Amazon is slashing a few hundred bucks off right now.
The 16″ base model is $300 off right now, snagging you a powerful notebook ideal for creative work via an Intel Core i7 processor, 16GB RAM, and a meaty 512GB of internal storage. Bump up to the Core i9 version with a 1TB SSD and you'll save $400 off of its higher price point.
Keen on snagging some Beats on-ear headphones but don't want the added bulk, battery hassle, or expense of wireless cans? No sweat: here's the deal for you.
Amazon has the basic Beats EP headphones right now for 30% off the list price in blue and white. These wired cans simply plug into your device and that's that: no charging or pairing involved.
Seeking a slim MacBook but don't want to spend upwards of a grand? If you can deal with some dated tech within, then you might consider Amazon's refurbished deal on an 11.6″ MacBook Air from early 2015. It might not have as much zip as the current models and the screen won't be as crisp, but this is still a slim and user-friendly Mac laptop for just under $500.
---