After a long wait, the iPhone 12 is finally official as it was just unveiled by Apple at the company's virtual October event.
We expect this to be one of four new phones, including the iPhone 12 mini, iPhone 12 Pro and iPhone 12 Pro Max. We've yet to hear those other three devices be confirmed.
So what do we know about the new iPhone so far? Well, not a huge amount. The company has confirmed that it'll be 5G-ready allowing for better internet connection on your phone.
Apple is in the process of unveiling the new handset on stage as you read this, and we're updating this article with everything we've heard so far.
---
New iPhone 2020 key facts
What is the iPhone 12? The new iPhone family from Apple
When is the iPhone 12 release date? Currently unclear
What will the iPhone 12 cost? Not certain, but expect $649 / £700 / AU$1,200+
iPhone 12 release date and price
We've yet to hear these details for the iPhone 12, but we expect to hear both the release date and the price of the handset by the end of Apple's big launch event. Stay tuned here for the details as we have them.
Want to be the first to know the best iPhone 12 deals? Our pre-order sign up below will mean we send you the best deals immediately when they become available.
iPhone 12 design and display
The new iPhone 12 features a 6.1-inch display size with a notch at the top of the display. It seems to be the same size notch as we've seen on recent iPhone products.
It comes in five colors, which are black, white, red, green and blue. There's an aluminum frame around the outside, and it looks to be less rounded than on recent iPhones.
The rear of the phone is made of glass, but the company was keen to make it clear that it is tougher than previous iPhones. It called the technology it's using a "Ceramic Shield", but it's not entirely certain what that material is.
We've yet to hear the exact dimensions of the iPhone 12, but the company confirmed it's 11% thinner, 15% smaller and 16% lighter than the iPhone 11 that was introduced in 2019.
It's a Super Retina XDR display, and it has double the amount of pixels as the iPhone 11. It also has a 1200 nit peak brightness, which should mean you'll get a brighter display on the phone.
iPhone 12 5G
Apple has confirmed the iPhone 12 is 5G-ready, which means you'll be able to connect to the next-gen internet connectivity from your iPhone for the very first time.
This is now a common feature on flagship Android phones, but this is the first time it has come to an Apple product.
The company has also confirmed it's mmWave technology, meaning this technology will work on Verizon in the US. We've yet to hear the other technologies being used, so we're uncertain where 5G will be usable on the iPhone 12.
iPhone 12 specs
The A14 Bionic chipset is powering the iPhone 12 – that's a chipset we've already seen confirmed for the iPad Air 4 – and it's the worlds first 5nm chipset. Apple says it'll be almost 40% more powerful than the A13 chipset in iPhone 11 range.
Apple is calling this the "fastest chip ever in a smartphone". That's a big claim, and it's sure to be something we put through its paces when we get the iPhone 12 in our hands.
Breaking… This is a breaking story, and everything you find below this point is based on the rumors before the handset was unveiled. If you want to follow along with all the latest announcements, we'd recommend our iPhone 12 live blog.
New iPhones 2020 camera
Will the iPhone 12 camera be good?
A lot of the new iPhone leaks suggest that we're going to see some big changes to the camera on each device.
The main change is likely to be the addition of a LiDAR scanner, just like we've seen on the iPad Pro 2020. This can accurately judge distances and therefore depth, and would allow for improved augmented reality and Portrait mode. There has been talk that a LiDAR scanner might be an iPhone 12 Pro Max exclusive though.
That said, we've also heard specific mentions of a LiDAR scanner being included on the iPhone 12 Pro and iPhone 12 Pro Max (alongside three lenses), while the basic iPhone 12 and iPhone 12 Max are said to have two camera lenses and no LiDAR scanner.
These claims have been made by multiple sources, and the below image (made by Phone Arena) shows how the camera could look on the Pro model.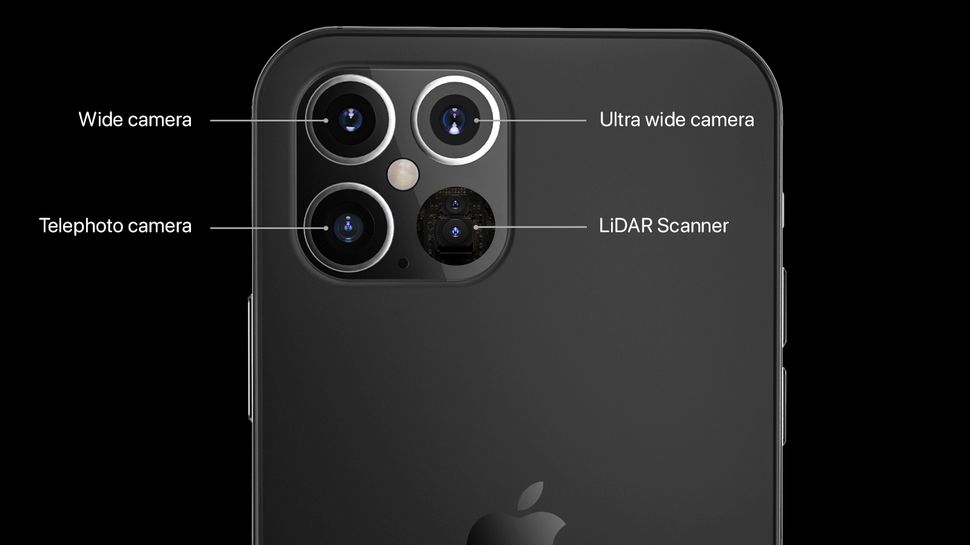 We've also seen a leaked sketch seemingly showing four rear lenses on the iPhone 12 Pro. This sketch supposedly came from a build of iOS 14, and is backed up by lots of other sources.
Three of the lenses look like those on the iPhone 11 Pro, if perhaps slightly bigger, but the new fourth lens looks like the LiDAR scanner found on the iPad Pro 2020, just like in the render above.
A leaked chassis for the iPhone 12 Pro further suggests the LiDAR scanner will be included. A LiDAR scanner then is looking very likely, at least on the Pro models, and we're also quite confident of the lens numbers, given the large amount of leaks.
The table below lays these details out clearly. Note that the LiDAR scanner is in addition to the number of cameras listed below.
iPhone 12 camera spec rumors

| | iPhone 12 | iPhone 12 Max | iPhone 12 Pro | iPhone 12 Pro Max |
| --- | --- | --- | --- | --- |
| How many cameras? | Two | Two | Three | Three |
| LiDAR scanner? | No | No | Yes | Yes |
Having said all that, the image below supposedly shows a case for the iPhone 12 Pro Max, and it doesn't have as many lens holes as we were expecting, so there are still some questions over camera numbers.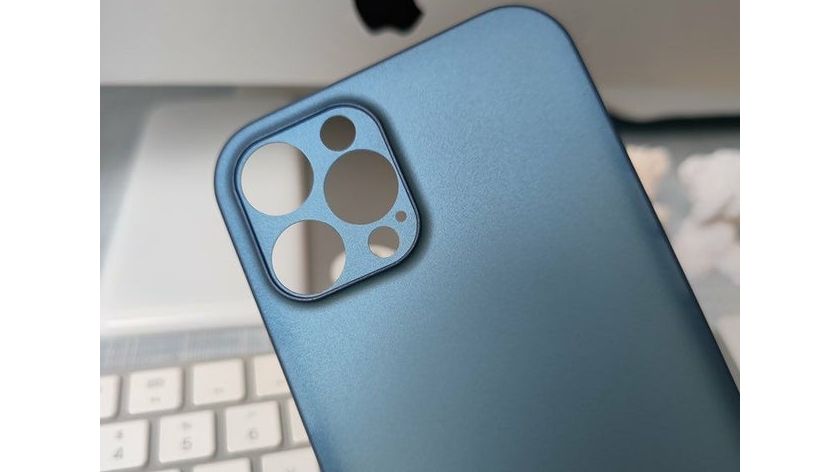 As for the specs of the camera, that's something we're less clear on so far, but one source says the iPhone 12 might have a 64MP main camera, over the 12MP snapper on the previous few versions, which would be a huge upgrade. This leak also suggests that the phone will have multiple lenses that support night mode shooting, and that the ultra-wide snapper could have a dedicated macro mode.
Plus, reputable leaker Max Weinbach says he has heard that the iPhone 12 Pro will feature Smart HDR functionality for improved low-light performance. That's alongside a 3x optical zoom, which is an increase from the 2x zoom capability featured in the iPhone 11 range.
Ming-Chi Kuo, a respected tech analyst, meanwhile has said he believes Apple will be making big improvements to autofocus on the iPhone 12 by using new parts from a different supplier.
We've also heard that the top-end new iPhone (likely the iPhone 12 Pro Max) will get a new image stabilization tech called 'sensor-shift', which would allow the sensor to move in order to counteract camera shake.
And we've also heard that all four new iPhone models might get a camera improvement in the form of a 7-element wide-angle lens. That's one more element than current models, which could lead to fewer aberrations and less distortion.
On the video front, a leak suggests that both 4K footage at 120fps and 4K slow motion footage at 240fps will be possible.
We haven't heard much about the front-facing camera yet, but what we have heard suggests big changes could be coming to that too.
A pair of Apple patents detail a time-of-flight (ToF) sensor seemingly designed to replace the current depth sensor on the front. ToF sensors send out optical beams and judge how long it take them to bounce off an obstacle in order to sense depth.
Switching to this sort of sensor might improve Face ID (which we've elsewhere heard might be faster and work from more angles than currently), but it also opens up new possible features, such as in-air gestures for touchless navigation, as seen on the likes of the LG G8 and Google Pixel 4.
It's worth noting however that while Patently Apple, which unearthed these patents, specifically links them to the iPhone 12, there's no guarantee that they'll actually make it to that – or any – iPhone.
iPhone 12 and iOS 14
What does iOS 14 bring to the iPhone 12?
iOS 14 is the latest version of the iPhone's operating system, and it's available now on your existing iPhone. It's only suitable for certain models, but all the most recent devices Apple has released are able to download the upgrade.
It's almost guaranteed that any new iPhones released in 2020 will come with this from day one.
So, what new features should you expect? Improved home screen widgets so you can better personalize your phone's main page for one, plus there's also a new way of filing your apps away called the App Library. This sits at the end of your home screens.
iOS 14 also debuts "light and fast" versions of certain apps that allow you to use some features without downloading the full app. These are called App Clips, and Apple believes they'll be useful in scenarios such as hiring electric scooters or paying for parking.
Other minor improvements are such things as tweaks to the Messages app, Apple Maps, Siri, and a variety of other first-party applications. There's a lot that's being tweaked, and while iOS 14 may not bring any hugely game-changing features to the iPhone 12 it's the best software from the company so far.
New iPhone 2020 accessories
Will your iPhone 12 come with AirPods?
The short answer to the above question is no. It's very unlikely Apple will put a pair of AirPods in the box with a new iPhone as they've been a major money maker for the company when sold separately.
Apple may choose to unveil the rumored AirPods Studio alongside the new handset at its event, but it's heavily rumored that the company will not be including a pair of earbuds of any kind in the iPhone 12 box – not even cheap ones.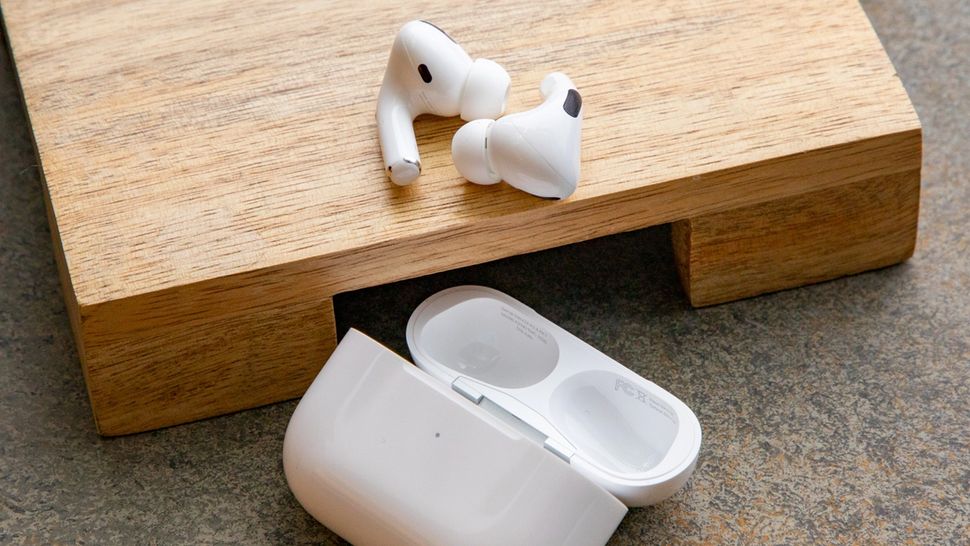 Similarly, we've now heard that Apple might not include a power adapter either (though you'll still get a charging cable). This could however mean costs will be reduced. It could also allow for smaller packaging and make it lighter and therefore cheaper to ship, though how much of this saving will be passed on to consumers is unknown.
It seems Apple has already surveyed customers about this potential change. It's a move that would also reduce e-waste, which based on a recent interview seems to be something that Apple is very keen to do.
However, another report has also suggested that Apple is working on a 20W charger, and that may be included in the box alongside the new phone. The iPhone 11 Pro and Pro Max both featured an 18W charger, while the iPhone 11 had a 5W option.
Leaked images have shown the 20W charger, but it's unclear if it's made to be included with the top-end devices or the whole range. If it is just for the top-end devices, we're hoping Apple increases the wattage for the standard models over 5W.
It may be that these chargers are sold separately in the end; we likely won't know anything for certain until Apple mentions it on stage at the launch event.
Should you wait for the new iPhone?
Should you buy the iPhone 11 or wait for iPhone 12?
Now that we're expecting the new iPhone this week, it's well worth waiting to see what Apple announces. Even if you don't want the new phone, you may find a better deal on an older device, and that date is very soon.
Alex Hughes, Phone Deals Editor at TechRadar, says, "One of the most exciting financial factors of the iPhone 12 is the effect it will have on the price of last year's iPhone 11.
"New phone launches are the ideal time to buy older models with prices rapidly falling. When the iPhone 11 launched, the iPhone XR was dropped by £100 in the UK, and we'd expect a similar effect to kick in this year for the iPhone 11 range."