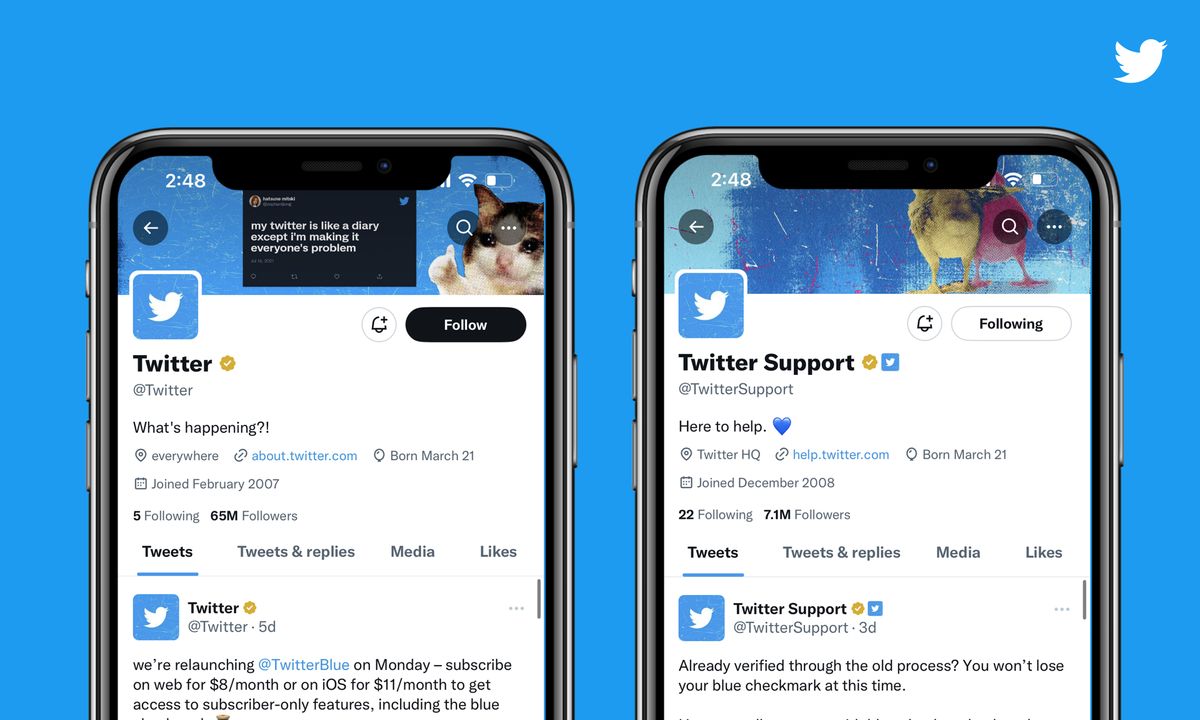 Months after its tumultuous launch, Twitter has announced that Twitter Blue is now available globally – and the social media company plans to pull checkmarks from 'legacy' verified accounts on April 1st.
Twitter Blue has expanded to users across the globe, so if you thought you were free from the Twitter madness, think again.
Twitter Blue is now available globally! Sign up today to get your blue checkmark, prioritized ranking in conversations, half ads, long Tweets, Bookmark Folders, custom navigation, Edit Tweet, Undo Tweet, and more. Sign up here: https://t.co/SBRLJccMxDMarch 23, 2023
See more
Twitter's legacy verification system did have some contention surrounding it due to its inconsistency even before Elon bulldozed through the site, but upheaving the entire system and putting it behind a paywall was undeniably not a popular change.
The new Twitter Blue subscription brings support for a 'verified' checkmark alongside prioritized ranking in conversations, fewer ads (notably not no ads, just fewer of them), and the ability to edit and undo tweets. The most recent addition to the feature roster is the ability to tweet up to 4,000 characters, which totally ruins the point of Twitter, but whatever.
Alongside the announcement Twitter also confirmed plans to 'wind down' its previous verified program, which granted a blue checkmark to accounts based on real-world ID and individual notoriety. Understandably, many 'legacy' verified users who jumped through hoops to gain verification before Musk took over are unhappy with the change.
On April 1st, we will begin winding down our legacy verified program and removing legacy verified checkmarks. To keep your blue checkmark on Twitter, individuals can sign up for Twitter Blue here: https://t.co/gzpCcwOpLp Organizations can sign up for https://t.co/RlN5BbuGA3…March 23, 2023
See more
As it stands, Twitter Blue costs $8/£6.99/$13AUD and you can get $1 a month off if you choose to be billed annually. The price is pretty standard regionally, adjusted for local currency. One odd wrinkle is that purchasing a Blue membership in-app on your phone actually costs a bit more, which Twitter says is due to Apple and Android storefronts taking a cut of in-app purchases.
The sweeping decision to 'de-verify' legacy accounts is as bizarre as it is dangerous. The move will make it a lot easier for impersonation accounts to pop up and no real well of identified who is who if you were not following the original account. Twitter will also be lowering the time it takes for Blue verification from 90 days to 30 which means creating fake accounts will become a much faster process.

Services Marketplace – Listings, Bookings & Reviews