When it comes to protecting a smartphone or tablet, tech companies usually opt for, tough tempered glass or rely on third parties to sell protective cases. LG, on the other hand, decided to take it to another level by putting a whole tablet in a suitcase.
It's called the StanbyME Go (yes, 'Stan', not 'Stand'), a portable display that's built into its own traveling case. The original product listing is on LG's Korean website, so we're going to rely on translations from other sources as well as the device's own specs sheet to tell you more about it.
The first thing you'll notice is that the StanbyME Go isn't small. The screen itself is about 26 inches diagonally minus the bezel (exactly 680mm). When open, the whole setup measures almost 30 inches tall and 26 inches wide (729 x 670 mm). Closed, the suitcase comes out to roughly 26 x 17 x 4.5 inches (670 x 433 X 119 mm). And the whole thing weighs nearly 30 lbs (12.7 kg) so it is a bit hefty.
Propped up
The StanbyME Go supports three separate configurations. You can prop up the arm to have the display stand horizontally in landscape mode or rotate it vertically into portrait mode. The third is table mode in which the screen lays flat in its case so you can play chess on it or play music via a record player app. Opening the case turns the display on while closing the case turns it off.
The screen itself is an LED panel with Full HD resolution (1920 x 1080 pixels) and a refresh rate of 60Hz. It's not the most powerful tablet in the world, but the StanbyME Go does support HDR10 and Dolby Vision to bump up the quality a bit.
The device also has pretty decent audio. It sports two four-channel speakers with Dolby Atmos for immersive surround sound. LG is marketing the StanbyME Go as something you take everywhere, so it makes sense to equip the tablet with powerful drivers that can drown out ambient noise.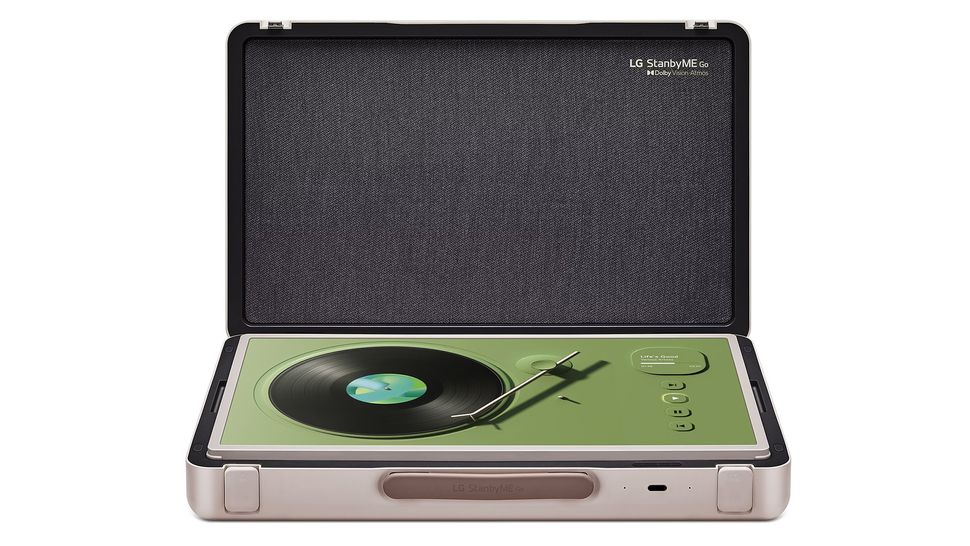 Notable features availability
Other notable features include direct voice recognition so users can give it commands and mobile screen sharing to transmit content from a smartphone to the StanbyME Go. It appears that you can play video games on the display. Peripherals like a PS5 controller can be connected via Bluetooth, but exact details on supported titles are not listed, as LG hasn't provided any concrete details.
The one thing we found rather disappointing is the battery life. A report from Ars Technica says that the StandbyME Go will only last "three hours while in low-power mode and the volume [must be] set to 30." In other words, not very long.
Currently, the LG StanbyME Go is exclusive to South Korea where it costs a little over a million Won, which is about $900 USD. It's unknown if the company has plans to launch the device internationally although we did ask. If you really want one, you can purchase the StanbyMe Go right now through third-party retailer Yootoypia for $1,049.98 USD.
Services Marketplace – Listings, Bookings & Reviews