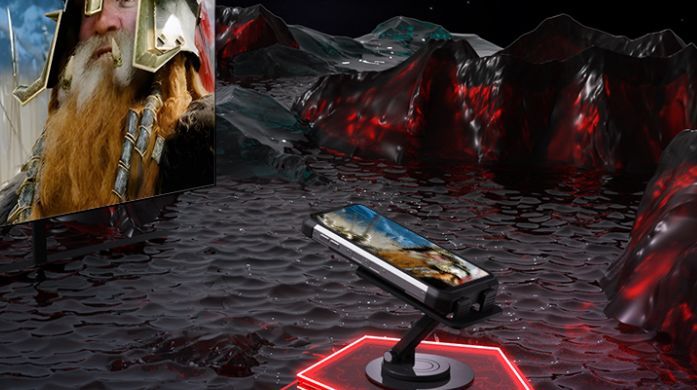 Unihertz is one of the more adventurous rugged smartphone vendors out there with outlandish models such as the BlackBerry-esque Titan (and Titan Slim), the lilliputian Atom, the two-faced TickTock and the huge Tank. Turns out there's a Tank 2 and it comes with a unique feature, one not seen since the Samsung Galaxy Beam. That's right, more than a decade after the exciting but short lived projector smartphone was launched, there's a new smartphone that wants you to use it as a projector.
Big, bold and brash could be three terms used to describe it; it is hefty (weighing more than 500g) and bulky – at 23.5mm, it is almost twice the thickness of the just-announced 15-inch Apple MacBook Air. It is powered by a Mediatek CPU (Helio G99) and comes with 12GB RAM (expandable to 22GB using some onboard wizardry).
Add in 256GB storage, a 6.8-inch FHD+ display, Android 13, a quartet of camera sensors (32-megapixel front facing, 108-megapixel, 64-megapixel night vision and 16-megapixel wide camera) and a huge 15.5mAh battery and you have a pretty compelling rugged smartphone already.
A mobile projector
However it is a rather unique selling point that seals the deal: its laser projector. Don't expect miracles though; Unihertz claims it has a native resolution of 1280 x 720 (i.e. HD) and a brightness of 40 lumens. Its throw and contrast ratios of 1.2:1 and 80000:1 respectively means that it will barely be usable for a large audience. So, yes, it is a great portable projector, but no, it can't be used as a business projector (saved from boring Powerpoint presentations)
But then, how many underwater projector do you know of (the Tank 2 is IP68/IP69K certified, so I'd expect it to be waterproof). At less than $340 (excluding taxes) at Chinese online retailer, Aliexpress, it is not as expensive as I'd expect, especially given the projector feature. Just be aware of its limitations: there's no 5G, no wireless charging, the processor is a bit slow and aftersales is likely to be a challenge.
Let's just hope that it doesn't get the same lukewarm reception as the Lenovo Smartcast smartphone, the Blackview Max 1 and the Voga V. Can't wait to see what Unihertz has next in store for us? Our money is on a 2024 take on the iconic, yet under-appreciated, Samsung Galaxy Camera.
Services Marketplace – Listings, Bookings & Reviews